Catholic World News
USCCB: Congress must act following Supreme Court decision on Voting Rights Act
July 08, 2013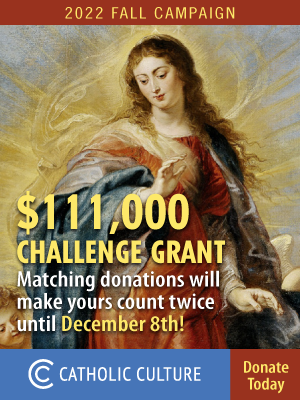 The United States Conference of Catholic Bishops (USCCB) has called upon Congress to enact voting-related legislation following Shelby County v. Holder, the recent Supreme Court decision that struck down one section of the Voting Rights Act.
"The United States Conference of Catholic Bishops has long played a leadership role in securing and protecting the rights of all citizens to vote, including the Voting Rights Act," said Bishop Stephen Blaire of Stockton, chairman of the bishops' Committee on Domestic Justice and Human Development, and Bishop Daniel Flores of Brownsville, Texas, chairman of the bishops' Committee on Cultural Diversity. "The recent Supreme Court decision necessitates that Congress act swiftly to assure that the right to vote be protected and afforded to all eligible citizens."
"We urge policymakers to quickly come together to reaffirm the bipartisan consensus that has long supported the Voting Rights Act and to move forward new legislation that assures modern and effective protections for all voters so that they may exercise their right and moral obligation to participate in political life," the bishops added.
In contrast to the view that Shelby County v. Holder places voting rights at risk, the vice chairwoman of the US Commission on Civil Rights has written an op-ed welcoming the decision. Justice Clarence Thomas, who joined the 5-4 majority, argued in his concurring opinion that the Court did not go far enough and should have declared an additional section of the Voting Rights Act unconstitutional.
---
For all current news, visit our News home page.
---
Further information:
Sound Off!
CatholicCulture.org supporters weigh in.
All comments are moderated. To lighten our editing burden, only current donors are allowed to Sound Off. If you are a current donor, log in to see the comment form; otherwise please support our work, and Sound Off!
Posted by: unum - Jul. 08, 2013 10:49 PM ET USA

This is just more USCCB politicking when they should be evangelizing the faithful! I haven't read anything from the Holy Father calling for lobbying during this year of faith ... and I haven't heard anything from my bishop or pastor calling for a New Evangelization during the Year of Faith either. Sigh ...

Posted by: Thomas429 - Jul. 08, 2013 9:21 PM ET USA

It is time to stop funding the USCCB. There may have been a need for this legislation when it originally passed with substantial support from the very people who the law is most frequently used against. Is the USCCB advocating prejudicial treatment of several states for sins long passed? Are they wishing to perpetuate the voter fraud abetted by disallowing photographic Id? These activities are the death knell for our church. Who do these voters created by this act support anyway?

Posted by: Ken - Jul. 08, 2013 7:26 PM ET USA

Thank you for including the last paragraph for balance. These kinds of statements are one reason while I do not donate to the USCCB anymore. There are plenty of laws on the books to insure equal access to the voting booth. What we didn't need and was rightfully struck down was a law imposing 1960s standards on today's states.

Posted by: cpatrick_vb8732 - Jul. 08, 2013 6:30 PM ET USA

The BISHOPS are barking up the wrong tree. The church has much bigger problems than voting rights in the USA ! cp

Posted by: dover beachcomber - Jul. 08, 2013 5:54 PM ET USA

I would have preferred that the USCCB keep its focus on the recent Supreme Court decisions in favor of redefining the pivotal institution of marriage. That's far more important than imagined threats to voting rights -- especially since the problem is really that people are voting when they are ineligible.

Posted by: TheJournalist64 - Jul. 08, 2013 5:30 PM ET USA

Of course, every citizen should be able to vote. On the other hand, do the bishops disagree that certain states treated under a kind of second Reconstruction, including my own, should continue to be treated by the Justice Dept as a third-world country? I hope not.