Catholic World News
Vatican official: World Youth Day is not 'Catholic Woodstock'
August 01, 2011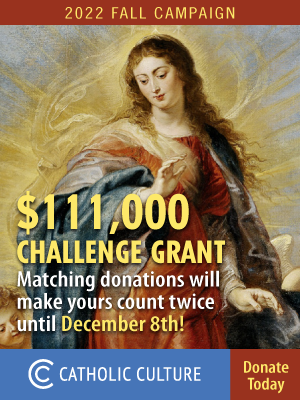 Msgr. Miguel Delgado Galindo, who was appointed undersecretary of the Pontifical Council for the Laity on June 18, told L'Osservatore Romano that World Youth Day is not a "Catholic Woodstock."
"Whoever is familiar with WYD knows that it is a stupendous occasion for evangelizing youth, a marvelous way for a personal encounter with Jesus in the presence of the Pope," said Msgr. Delgado, who was looking forward to a career as an attorney before attending the 1989 World Youth Day in Santiago de Compostela and deciding to enter the seminary. "So the real protagonist is Christ, not the show, nor the multitude of young people. It can't be considered the 'Catholic Woodstock,' a multicultural festival of Catholic young people which leaves no lasting trace when the lights go down."
"Although it is an event which involves crowds, every single young person who participates remains profoundly moved," he added. "WYD--if lived as a possibility to encounter Christ--can transform the lives of those who take part."
In addition, the director of the Holy See Press Office said in his weekly commentary that World Youth Day has now touched three generations and will help the youth of the digital age to be "protagonists" in the proclamation of Christ.
"The generation of the 1960s confused revolutionary and libertarian ideas with their own personal contradictions," said Father Federico Lombardi. "The generation of the 1980s witnessed the fall of the Berlin Wall, experienced the charisma of John Paul II, and were more open to the spiritual dimension in their lives. The generation of the third millennium is the generation of the internet and social networks, the youth of the digital age."
"We are asked to join the Pope in Madrid, conscious that we are facing a new and important challenge: that of proclaiming Christ to the present generation, of inviting them to become the protagonists of this proclamation in the new areas of their lives--both geographically and virtually," he added.
---
For all current news, visit our News home page.
---
Further information:
Sound Off!
CatholicCulture.org supporters weigh in.
All comments are moderated. To lighten our editing burden, only current donors are allowed to Sound Off. If you are a current donor, log in to see the comment form; otherwise please support our work, and Sound Off!
Posted by: koinonia - Aug. 03, 2011 9:12 PM ET USA

Over the past 30 years an interesting phenomenon has occurred. Today's Catholic youth are often indistinguishable from their secular counterparts. In recent years this was noted to my sorrow in several visits to more than one very "conservative" Catholic school. The percentage of people in these communities whose appearance was "different" is not nearly what it was even in the late 1980s. We blend in, and we're pretty comfortable doing it. Woodstock? A bit too harsh. Disturbing? Absolutely.