Catholic World News
USCCB welcomes proposed EPA air pollution standards
June 27, 2011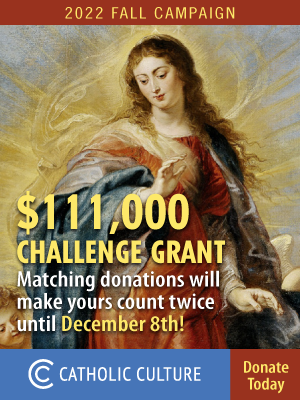 Bishop Stephen Blaire of Stockton, chairman of the Committee on Domestic Justice and Human Development of the United States Conference of Catholic Bishops, has welcomed the Environmental Protection Agency's proposed Mercury and Air Toxics Standards.
"While we are not experts on air pollution, our general support for a national standard to reduce hazardous air pollution from power plants is guided by Catholic teaching, which calls us to care for God's creation and protect the common good and the life and dignity of human persons, especially the poor and vulnerable, from conception until natural death," Bishop Blaire said in a letter to EPA Administrator Lisa Jackson.
"We do not make these comments unaware of the broad economic reality," he added. "Our country continues to struggle with persistently high unemployment and stagnant economic growth that is not nearly sufficient to meet the needs of vulnerable workers and families … Implementation of such a rule should attempt to mitigate the potential effects on the workforce and protect poor and vulnerable communities while maintaining a clear priority for health and well-being." "We welcome the EPA's proposal of a national standard to significantly reduce toxic air pollution and call upon our leaders in government and industry to act responsibly, justly, and rapidly to implement such a standard."
---
For all current news, visit our News home page.
---
Further information:
Sound Off!
CatholicCulture.org supporters weigh in.
All comments are moderated. To lighten our editing burden, only current donors are allowed to Sound Off. If you are a current donor, log in to see the comment form; otherwise please support our work, and Sound Off!
Posted by: - Jun. 28, 2011 7:57 AM ET USA

Good! I was lying awake nights worrying about the Official Teaching on a proposed Federal regulation! Notwithstanding the explicit disclaimer regarding expertise, I'm sure the world will be a better place now! Now, about those mundane things like evangelization, saving souls, and Church discipline?

Posted by: hartwood01 - Jun. 27, 2011 10:51 PM ET USA

The USCCB is becoming an embarrassment, don't they have issues to deal with where they are indeed experts? Bluntly, they are not elected officials, the secular world does not hang on their every pronouncement. When they do have some relevant issue to weigh in on, they will be ignored.

Posted by: Gregory108 - Jun. 27, 2011 9:48 PM ET USA

If they are not experts on a topic, then the bishops should be silent on the matter lest they remove all doubt about their total incompetence on a topic. There are so many, many matters in our society that the bishops should be expert about that desperately need comment, but are not commented on because the bishops are too busy speaking about topics they know nothing about! I especially love the "mitigation on the poor" statement: "Implenment policies that harm the poor, but mitigate them!"

Posted by: Ken - Jun. 27, 2011 9:38 PM ET USA

The USCCB cannot learn from its own past mistakes. They supported Obamacare until the very end when they SUDDENLY realized it would support abortion. Now they will support this disaster until it becomes apparent plants will close and jobs will be lost from ever-increasing air quality regulations from the radically left EPA. How can the USCCB be so clueless?

Posted by: unum - Jun. 27, 2011 8:47 PM ET USA

It is so tough to be a bishop these days. All the Church has to work with is a bunch of lay people with advanced degrees in climate science and economics, so a bishop with training in, oh say theology, has to speak for the Catholic community with a remark like, "While we are not experts on air pollution ...". Is seems the bishops forget that they are here to serve and lead the people of God, not to rule over them. President Obama thinks that's his job.

Posted by: Mike in Toronto - Jun. 27, 2011 6:59 PM ET USA

Stewardship of the planet is very much "a subject for teaching by the [M]agisterium of the Church," and it is a simplistic, knee-jerk reaction to suggest otherwise. The Pope's thoughts on these matters are discussed in Jeff Mirus' "The Green Pope's Dilemma" at http://www.catholicculture.org/commentary/articles.cfm?id=497 .

Posted by: Skip - Jun. 27, 2011 6:15 PM ET USA

Unbelievable.......and meanwhile, 3,000 babies are killed today by their mothers. How about the massive layoffs and "jobs shipped over-seas" because of the ridiculous increasing standards by the crazy environmentalists like this? What are the moral ramifications to that, dear bishop? If you are not an expert, stay out of this. BTW, who eexactly are you speaking for?? What bishops? No wonder the Church in America is sinking.

Posted by: MAG - Jun. 27, 2011 3:46 PM ET USA

"While we are not experts on air pollution" indeed.

Posted by: - Jun. 27, 2011 3:40 PM ET USA

I feel sure, somehow, that with only a little encouragement bp. Blaire could be persuaded to share with us his episcopal thoughts on the Higgs boson and the prospects for the Casey Anthony trial as well.

Posted by: jimtotter - Jun. 27, 2011 11:28 AM ET USA

Statements like this only serve to confuse the public. The bishops have a right to comment as individual citizens on this matter, but when they issue collective statements they need to stay within their area of competence. This is not a subject for teaching by the magisterium of the Church.

Posted by: adamah - Jun. 27, 2011 10:39 AM ET USA

"While we are not experts on air pollution..." Then why come out with a statement supporting the policy? How about examining all the ramifications first.