Catholic World News
John Jay study ducked conclusion on homosexual influence, columnist charges
May 26, 2011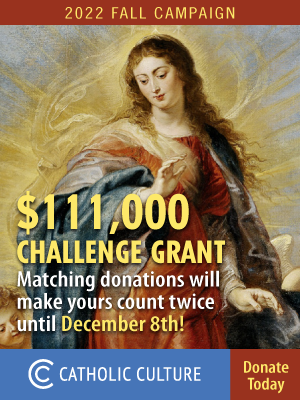 Citing the work of Dr. Richard Fitzgibbons, columnist Louie Verrecchio charges that the John Jay report on the sex-abuse scandal in America is seriously flawed by a politically-correct approach.
The John Jay study argued that homosexuality was not a major factor in clerical abuse, because the guilty priests did not identify themselves as homosexuals. That is irrelevant, Fitzgibbons counters. "We are identified by our behavior," says the consultant to the Vatican's Congregation for Clergy. "The attempt to distance the homosexual acts in question from a personal struggle against SSA (Same Sex Attraction) on the part of the abuser is inconsistent with clinical data."
---
For all current news, visit our News home page.
---
Further information:
Sound Off!
CatholicCulture.org supporters weigh in.
All comments are moderated. To lighten our editing burden, only current donors are allowed to Sound Off. If you are a current donor, log in to see the comment form; otherwise please support our work, and Sound Off!
Posted by: unum - May. 27, 2011 9:27 AM ET USA

A major question that Catholics should be asking after this extraordinary expenditure is who is responsible for ducking the issue of homosexuality in the priesthood. Is is the liberals at John Jay? Or, is it the liberals of the client for the study (USCCB) who influenced the outcome? Either way, the laity was robbed. Both John Jay and USCCB owe us Revision 1 of the study report that addresses the issue (at no charge).

Posted by: lauriem5377 - May. 26, 2011 7:07 PM ET USA

There are so many poor who need help - why would we ever even consider spending $2,000,000 on a study. It's time as Catholics to get our priorities straight!

Posted by: impossible - May. 26, 2011 6:15 PM ET USA

Perhaps if enough people tell the truth, the big lie told in the $2,000,000 John Jay Report will be fully exposed and, if there is any honor, retracted by those who prepared the report. I still think they should refund the money to the USCCB, with the proviso, of course, that it not be contributed to the Democratic National Committee or liberal candidates, either in cash or in kind. It's that "in kind" area that has really been a problem these past 50 years.