Catholic Recipe: St. Stephen's Horns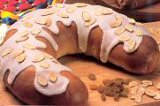 Also Called: Podkovy
In honor of the Saint's patronage over horses, special breads in the form of horseshoes are baked on December 26 in Poland and other Slavic countries. These "horns of St. Stephen" ( podkovy ) are made of sweet dough and shaped in the form of large, heavy crescents, filled with jam or poppy seeds or ground nuts. They serve as coffee-bread on St. Stephen's Day.
DIRECTIONS
Dissolve yeast in lukewarm milk.
In a separate bowl, beat eggs until light and fluffy. Add sour cream, yeast-milk mixture, lemon juice, rind.
Cut butter and shortening into dry ingredients; add to egg mixture. Mix well. Chill 1 hour.
Roll out dough 1/4 inch thick. Cut in rectangles. Sprinkle rectangles with poppy seeds, nuts, or cheese. Close. Shape into horns. Brush with cream.
Bake on greased baking sheets 12-15 minutes at 375°.
Recipe Source:
Catholic Cookbook, The by William I. Kaufman, The Citadel Press, New York, 1965