Catholic Recipe: St. John's Wine (Mulled Wine)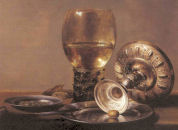 This hot mulled wine can be served on St. John's feast day. On St. John's Day, the older version of the Roman Ritual tells us that "wine offered by the faithful is blessed in remembrance and in honor of St. John who without any ill effects drank a cup of poisoned wine." It was by faith that St. John was saved, and through the mystical union became the disciple whom the Lord loved best. By love and faith man comes to God. We, too, pray as members of the Mystical Body.
DIRECTIONS
Boil the spices in the wine in a large saucepan for about five minutes.
Strain the wine.
Serve it hot.
Recipe Source:
Cooking for Christ by Florence Berger, National Catholic Rural Life Conference, 4625 Beaver Avenue, Des Moines, IA 50310, 1949, 1999