Catholic Recipe: Easy Chicken and Dumplings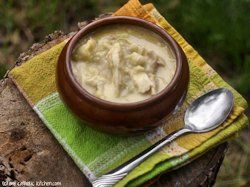 DIRECTIONS
Place the chicken, onion, bay leaves, and bouillon, in a large pot. Add 4 quarts of water, simmer over medium heat. Simmer the chicken until it is tender and the thigh juices run clear, about 40 minutes.
Remove the chicken from the pot and, when it is cool enough to handle, remove the skin and separate the meat from the bones. Return the chicken meat to the pot. Keep warm over low heat.
Add the cream of chicken soup to the pot with the chicken and simmer gently over medium-low heat.
To prepare the dumplings: Mix the flour with the salt and pepper in a shallow bowl or plate. Take each biscuits and tear into three layers. Dip each layer into the flour mixture. (both sides) Cut each layer into three pieces. I used my pizza cutter. You could use a knife or just tear them for a more rustic looking dumpling.
Do not stir the chicken once the dumplings have been added. Push the pieces of dough down into the broth. Gently move the pot in a circular motion so the dumplings become submerged and cook evenly. Cook until the dumplings are no longer doughy, about 10 minutes.
To serve, ladle chicken, gravy, and dumplings into warm bowls.
Recipe Source:
My Catholic Kitchen by Veronica Gantley