Catholic Recipe: Cheese Manicotti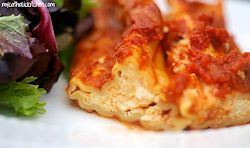 This recipe is taken from My Catholic Kitchen from the Lenten section.
DIRECTIONS
Preheat oven to 350 degrees In a large bowl combine mozzarella, ricotta, cream cheese, eggs, salt, pepper and Italian seasonings. Stir until well blended.Put the filling in a zip lock bag. Place the uncooked manicotti shell into a coffee cup and squeeze the filling into the shell.Combine the marinara and the water. Spread about 1 cup on the bottom of a 9 x13 inch pan. Place the filled shells into the sauce lined pan. cover the shells with sauce and sprinkle with Parmesan on top. Cover with foil and bake 50 minutes. Take away the foil and cook another 15 minutes.
Recipe Source:
My Catholic Kitchen by Veronica Gantley