Catholic Recipe: Beef Brisket with Fall Vegetables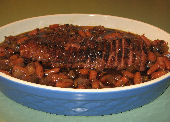 This comfy dish celebrates fall's harvest.
DIRECTIONS
Sprinkle beef with salt and pepper. Cut carrots into 2-inch pieces.
Cook beef in hot vegetable oil in a roasting pan over medium-high heat 3 to 4 minutes on each side or until browned. Add carrot, parsnip, celery, onion, and fennel.
Stir together soup mix, 1-1/2 cups water, wine, broth, ketchup, Beau Monde seasoning and garlic; pour over beef and vegetables in pan. Sprinkle with thyme and chopped parsley. Bring to a boil; remove from heat, and cover with aluminum foil.
Bake at 350° for 3-1/2 hours or until tender, basting with juices every 30 minutes. Remove beef from pan, reserving gravy. Cut beef into slices; place beef and vegetables on a large serving platter. Pour gravy through a wire-mesh strainer into a bowl, discarding solids. Drizzle a small amount of gravy over beef on platter; serve brisket with remaining gravy.
Recipe Source:
Southern Living , Oxmoor House, 2002