Catholic Recipe: Sunday Chicken Casserole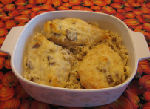 Try this recipe for a cool October Sunday.
DIRECTIONS
Cook the rice according to the package directions. While the rice is cooking, wash the chicken fillets, soak them in a little salt and cold water, and then pat them dry with a paper towel. In a frying pan, melt the butter, but do not brown. Place the chicken in the pan and let cook over medium heat, turning the pieces until they appear to be done, about 10 minutes. Remove the chicken from the pan, stir in the flour, and add the sour cream. Using a wire whisk to remove lumps, stir in the water and instant broth and mix well. Add the mushrooms. Stir and let this sauce simmer for 8 minutes. Spread the cooked rice in the bottom of an 8 x 8 baking pan. Put the chicken fillets on top of the rice, then pour the sauce over the rice and chicken. Sprinkle the cheese on top. Bake at 350° for 30 minutes.
Recipe Source:
Mama Dip's Kitchen by Mildred Council, The University of North Carolina Press, 1999