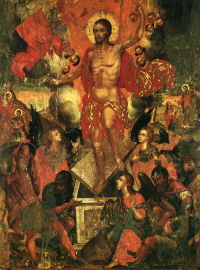 Footnotes
What Is Ordinary Time?
1 Dies Domini, #76 "But there is another rhythm which soon established itself: the annual liturgical cycle. Human psychology in fact desires the celebration of anniversaries, associating the return of dates and seasons with the remembrance of past events."
2 Dies Domini, #37 "As the Church journeys through time, the reference to Christ's resurrection and the weekly recurrence of this solemn memorial help to remind us of the pilgrim and eschatological character of the People of God. Sunday after Sunday the Church moves toward the final "Lord's Day," that Sunday which knows no end. The expectation of Christ's coming is inscribed in the very mystery of the Church and is evidenced in every Eucharistic celebration. But, with its specific remembrance of the glory of the Risen Christ, the Lord's Day recalls with greater intensity the future glory of this "return". This makes Sunday the day on which the Church, showing forth more clearly her identity as "Bride," anticipates in some sense the eschatological reality of the heavenly Jerusalem. Gathering her children into the Eucharistic assembly and teaching them to wait for the "divine Bridegroom," she engages in a kind of "exercise of desire," receiving a foretaste of the joy of the new heavens and new earth, when the holy city, the new Jerusalem, will come down from God, "prepared as a bride adorned for her husband: (Rev 21:2)."
Scripture and the Liturgy
3 Sacrosanctum Concillium #108, "The minds of the faithful must be directed primarily toward the feasts of the Lord whereby the mysteries of salvation are celebrated in the course of the year. Therefore, the proper of the time shall be given the preference which is its due over the feasts of the saints, so that the entire cycle of the mysteries of salvation may be suitably recalled.
Feast Days
The Easter Mystery Celebrated in Ordinary Time
7 Sacrosanctum Concillium, #106, "By a tradition handed down from the apostles which took its origin from the very day of Christ's resurrection, the Church celebrates the Paschal Mystery every eighth day; with good reason this, then bears the name of the Lord's day or Sunday. For on this day Christ's faithful are bound to come together into one place so that, by hearing the word of God and taking part in the Eucharist, they may call to mind the passion, the resurrection and the glorification of the Lord Jesus, and may thank God who "has begotten them again, through the resurrection of Jesus Christ from the dead, unto a living hope."
8 Easter Vigil Liturgy, Blessing of the Paschal Candle.