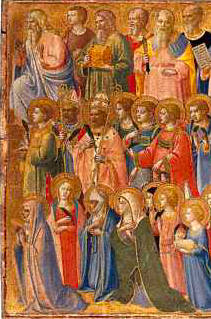 "...there was an enormous crowd... They were from every race, tribe, nation, and language...." — Rev. 7:9
Feast Days
While insisting that the feasts that commemorate the mysteries of salvation take precedence, the Church nonetheless includes the celebration of the feast days of the Blessed Virgin Mary and of the saints in the liturgical calendar.
"By inserting into the annual cycle the commemoration of the martyrs and other saints on the occasion of their anniversaries, 'the Church proclaims the Easter mystery of the saints who suffered with Christ and with him are now glorified.' (Sacrosanctum Concilium, 102) When celebrated in the true spirit of the liturgy, the commemoration of the saints does not obscure the centrality of Christ, but on the contrary extols it…"
"The intrinsic relationship between the glory of the saints and that of Christ is built into the very arrangement of the liturgical year, and is expressed most eloquently in the fundamental and sovereign character of Sunday as the Lord's Day." [6]