the remedial education of Congressman Kennedy
By Diogenes ( articles ) | Oct 26, 2009
Bishop Thomas Tobin of Providence, Rhode Island-- who shows a rare gift for plain speech on public issues-- deserves congratulations for his effort to educate Congressman Patrick Kennedy on the reasons behind the US bishops' opposition to a health-care reform proposal that allows subsidies for abortions. It won't be easy.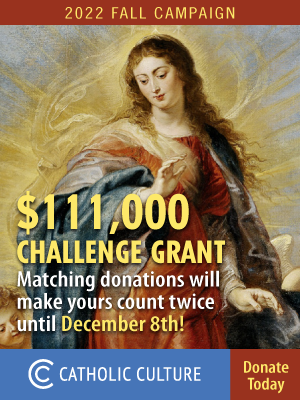 Kennedy, you will recall, told a reporter that he could not understand why the US bishops are opposing the reform bill. Do they like reform? Isn't it, like, a good thing? In a quick public response, Bishop Tobin characterized Kennedy's statement as "irresponsible and ignorant," explained the political issue in a single pithy paragraph, and added a few equally pithy comments on the quality of Kennedy's analysis:
But the Congressman is correct in stating that "he can't understand." He got that part right.
That sort of blunt talk, so unusual for an American bishop, might help Kennedy put things in the proper perspective. But let's not be overly optimistic.
For one thing-- how shall we put this diplomatically?-- sequential logic is not Patrick Kennedy's strong suit. For another, poor Bishop Tobin is working to overcome a lifetime of miseducation.
No doubt influenced by the constant preaching of his father, the late Senator Ted, Patrick Kennedy believes that health-care reform is the most important moral imperative of our time. He believes that the American bishops support reform in principle (and on that point, Bishop Tobin assures him, he is correct). So why, then, aren't the bishops wholeheartedly backing this legislation? That's what Patrick Kennedy can't understand. He knows that the bishops oppose abortion, but he can't believe that their opposition is serious enough to risk derailing an initiative like this one. He assumes that when really there's serious political business at hand, the American hierarchy should set aside its interest in abortion and embrace the liberal cause. If you saw his father's funeral-- and watched as much of the American Catholic world lionized Ted Kennedy for his leadership on issues like health-care reform, while ignoring his vigorous support for unrestricted abortion-- you may have a better understanding of Patrick's current confusion.
Sound Off!
CatholicCulture.org supporters weigh in.
All comments are moderated. To lighten our editing burden, only current donors are allowed to Sound Off. If you are a current donor, log in to see the comment form; otherwise please support our work, and Sound Off!