outreach
By Diogenes ( articles ) | May 09, 2008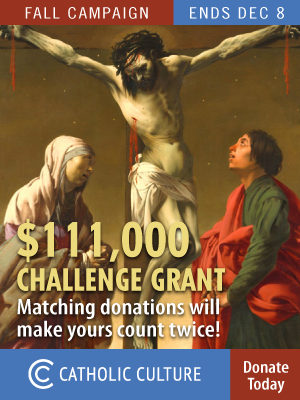 How do you circumvent the ticklish decision presented by a pro-abortion Catholic's public approach to the Communion minister at Mass? Simple. You arrange for the pol to say planted and dispatch the minister to him. From the Washington Times's account of the Nationals Park Mass:
Sen. Edward M. Kennedy, a liberal Massachusetts Democrat, got a personalized delivery of Communion, said Dan Skehan, a businessman from Lancaster, Pa., who sat in Section 216 directly above the senator.

Minutes before the rest of the enormous crowd lined up to receive the sacrament, Mr. Skehan and his two sons spotted a priest making his way down the steps to the senator to hand him the consecrated host.

"It was obviously prearranged," Mr. Skehan said, "maybe out of regard for his girth and lack of mobility. I turned immediately to both my sons and said, 'Oh my gosh, look at that.' Everyone in my section, which was filled with people from Lancaster, said, 'That is outrageous. How could they do that?'"
"How could they do that?" Pastorally, folks, pastorally. We should presume that anyone seated in the left field grandstand is a Catholic in good standing and by his own lights a worthy recipient of the Eucharist. Therefore we wouldn't be comfortable failing to anticipate the ticket-holder's good faith desire to receive the Eucharist, and it's only good manners to pre-arrange a one-on-one. Provided, of course, he's not making a public display of disobedience by kneeling or such.
Sound Off!
CatholicCulture.org supporters weigh in.
All comments are moderated. To lighten our editing burden, only current donors are allowed to Sound Off. If you are a current donor, log in to see the comment form; otherwise please support our work, and Sound Off!