The Insights eNewsletter
Insights provides critical perspective on the issues that affect your life as a Catholic today. Delivered twice weekly.
This Insights eNewsletter was sent to subscribers on March 19, 2013.
eNewsletter Subject: The Inaugural Mass, and the Dirty War
Pope Francis launched his pontificate formally today with his inaugural Mass. We can begin to get a sense of our new pope by reading the complete text of his homily.
Unfortunately, the media hatchet persons are hard at work trying to blacken the Pope's name, and they have seized upon the infamous Argentinian dirty war. We have three sources of information on this: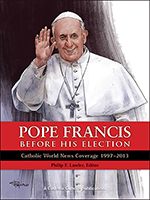 I said there were three sources. It so happens that the new ebook containing our news coverage of
Pope Francis before he became pope
includes a couple of items on this "dirty war".
NOTE: I will email this ebook free of charge to anyone who makes a donation in any amount to CatholicCulture.org before the end of March....
[more content for subscribers]
There's more to this eNewsletter! Sign up to receive complete Insights!