The Future, seen through bifocals
By Diogenes ( articles ) | May 07, 2008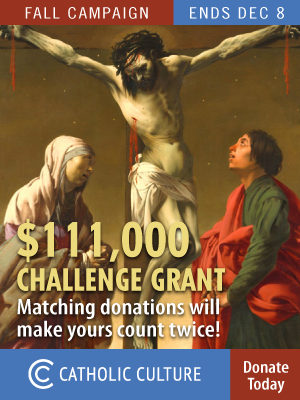 Look at this picture-- no fair peeking at the web address-- and tell me what you see.
It's recreation time at the Old Folks' home, right?
Wrong! It's a scene from the closing liturgy at the West Coast conference of Call to Action. This, my friends, is the cutting edge of progressive Catholicism. These are Easter People, and when they make plans to celebrate the liturgy, they mean celebrate.
To do this properly, you'll need a Buddhist meditation to set the mood, and you'll need "larger-than-life puppets" that "call us to be larger than life in our work."
Ready for more? There's a video.
Here's my challenge to you: Watch the first couple of minutes (if you can last longer, your stomach is stronger than mine). Call a Catholic friend or neighbor, and describe in your own words what you have just seen. Now-- here's the tough part-- convince your friend that you haven't been drinking.
Sound Off!
CatholicCulture.org supporters weigh in.
All comments are moderated. To lighten our editing burden, only current donors are allowed to Sound Off. If you are a current donor, log in to see the comment form; otherwise please support our work, and Sound Off!