friends like these
By Diogenes ( articles ) | Jul 08, 2008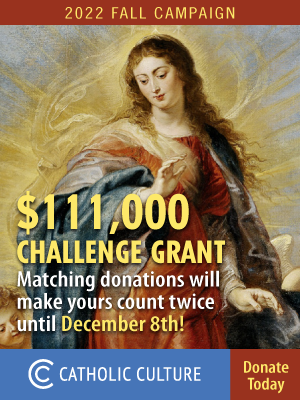 When the Church of England voted to allow the ordination of women as bishops, one bishop broke down in tears, the Daily Telegraph reports. But before Anglo-Catholics begin celebrating their latest hero in the Anglican hierarchy, let's take a closer look:
The Rt Rev Stephen Venner, the Suffragan Bishop of Dover, said he was ashamed of the church for ignoring the deeply felt wishes of traditionalists at the end of an emotional six-hour debate.
It's not the wishes of traditionalists that matter, no matter how deeply they're felt. It's the unbroken tradition of the universal Church and the will of the Lord Jesus Christ. That the Church of England is untroubled by breaking from those sources of authority is the real problem here.
Yes, Bishop Venner is troubled. He knows that something is wrong. But what is it?
He said the church was just "talking the talk" of being inclusive and added: "Is this the Church of England at its best? I have to say I doubt it."
Frankly, I don't. Things being what they are, this is the best that Anglicans can reasonably expect.
Sound Off!
CatholicCulture.org supporters weigh in.
All comments are moderated. To lighten our editing burden, only current donors are allowed to Sound Off. If you are a current donor, log in to see the comment form; otherwise please support our work, and Sound Off!