Francisco, Diego, Monica, Antonio?
By Domenico Bettinelli, Jr. ( articles - email ) | Jun 14, 2004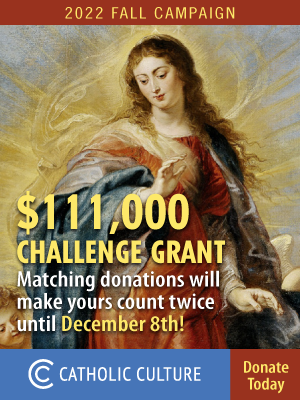 The cast of the Spanish-language version of "Friends"? No. Those could be the new names of San Francisco, San Diego, Santa Monica, and San Antonio.
A group of law professors are saying that now that secular activists have been successful in removing creches and monuments from public property and crosses from city seals, the next target is likely to be cities named after saints and other religious icons.
The whole Southwest and California will have to be renamed. Goodbye San Francisco, so long Los Angeles, no more San Antonio. Corpus Christi is right out.
The ACLU says that's just ridiculous, that if they were to bring a lawsuit they'd be laughed out of court. Yes, but people said the same thing about challenging the Pledge of Allegiance, city seals, even gay marriage. It's coming.
So what will be the new names? I have a perfect set picked out for SF and LA: Sodom and Gomorrah.
Oops, those are from the Bible, too. Back to the drawing board.
Sound Off!
CatholicCulture.org supporters weigh in.
All comments are moderated. To lighten our editing burden, only current donors are allowed to Sound Off. If you are a current donor, log in to see the comment form; otherwise please support our work, and Sound Off!