Catholic movie watching is more important than watching Catholic movies
By Thomas V. Mirus ( bio - articles - email ) | Mar 25, 2015
America magazine has published an interview with Catholic film critic Steven Greydanus. Greydanus, now a candidate for the permanent diaconate in the Archdiocese of Newark, writes for the National Catholic Register and Crux as well as on his own website, Decent Films. The America interview, which explores a Catholic approach to watching films from several different angles, is well worth reading in full, but here are some of the highlights.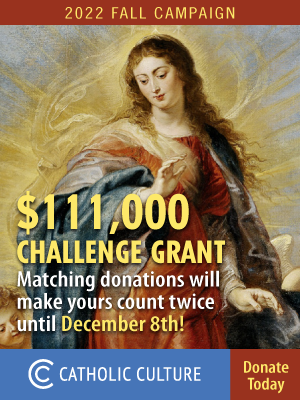 On morality in film:
I write out of a love of film, not just a concern with moral content. Too much film writing by Christians is dominated by counting swear words or condemning bedroom scenes. Moral questions can never be set aside, but if we look at films only through the lens of the moralist, we're going to miss nearly everything they have to offer us.

...
The most inspiring theme in the world can't make a lame film worthwhile. Genuinely bad art is false art, however true the themes are. And sufficiently offensive moral themes can poison a film as entertainment or even as art.
On the mandate for Catholics to broaden their artistic horizons:
I want to write more about older films and foreign films. The 1971 pastoral instruction Communio et Progressio talks about the importance of developing "a truly catholic taste" in movies and other arts, embracing the traditional and the cutting-edge as well as the productions of all nations, cultures and subcultures. We Americans tend to be more parochial than "truly catholic" in our tastes, mostly going for mainstream Hollywood fare. I'd like to be a voice pointing people in other directions as well.
On the concept of the "Catholic film":
Honestly, I don't like the term "Catholic movies" any more than I do "Catholic film criticism." Flannery O'Connor was a Catholic novelist, but she resisted the term "Catholic novel."

There are good movies and bad ones, true ones and false ones. There are films with Catholic trappings that are subtly Protestant, like "The Keys of the Kingdom," and films with Protestant trappings that are subtly Catholic, like "How Green Was My Valley."

All truth is God's truth, all goodness is God's goodness, all beauty is God's beauty. What I want to promote is not so much watching Catholic movies as Catholic movie watching, if you follow me.
On the purpose of art:
As a Catholic, I believe goodness, truth and beauty are varying perceptions of the same transcendent reality—"rays of God," in Pope Pius XII's memorable phrase. I believe we are created in God's image, that our creative aspirations dimly reflect God's creative actions.

So I reject the nihilistic view of art as a way of distracting or deceiving ourselves regarding the intolerable reality of the human condition ("lies breathed through silver," to borrow a phrase from C. S. Lewis). I don't believe "life is a mistake only art can correct," as Stew bellows in Spike Lee's amazing "Passing Strange."

Rather, I believe, as John Paul II wrote in his 1985 "Letter to Artists," that even when artists "explore the darkest depths of the soul or the most unsettling aspects of evil," they "give voice in a way to the universal desire for redemption"—a redemption that is real, not merely poetic.
On what Greydanus hopes to accomplish as a critic:
There are pious souls who can't imagine a morally serious person finding value in "Harry Potter," and sophisticated cinephiles who suppose that anyone with theological objections to "The Last Temptation of Christ" must be a censorious nut job. If I can cause either one a bit of cognitive dissonance and help open them up to dialogue with another point of view, then that to me is a job well done.
[Those interested in reading more on this topic may enjoy my overview of Pope Pius XII on "the ideal film."]
Sound Off!
CatholicCulture.org supporters weigh in.
All comments are moderated. To lighten our editing burden, only current donors are allowed to Sound Off. If you are a current donor, log in to see the comment form; otherwise please support our work, and Sound Off!
Posted by: WNS3234 - Nov. 19, 2016 10:54 AM ET USA

Our (my) experience with Diocesan Tribunals echoes Mr. Mandock's yet I think it notable that this is our experience in the USA. I don't know about the Canadian, Mexican, or the numerous countries in Central and South America practices. Whereas there IS a universal Code, its application via Canonists seems to be presumed inadequate. In the recent past two solutions were applied to irregular situations: 1/ Brother-Sister relationship and 2/ "Internal Forum," of which little could or should be said

Posted by: jeremiahjj - Nov. 18, 2016 4:05 PM ET USA

This is a solution in search of a non-existent problem. Something else is afoot.

Posted by: Ken - Nov. 17, 2016 8:05 PM ET USA

I wonder if the College of Cardinals has learned its lesson with this pope's election.

Posted by: Randal Mandock - Nov. 17, 2016 1:47 PM ET USA

My experience with marriage tribunals is that they are exhaustive, comprehensive, deliberating, just, and merciful bodies that do exactly what they are intended to: "examine troubled marriages, taking every case at it is presented, weighing the different circumstances, and determining whether or not a sacramental marriage had taken place." The Cardinal designate is just spewing more Vatican sophistry. It seems as if the Vatican intends to fill up what is lacking in the sacrifice of Obama.