academic freedom and its discontents
By Diogenes ( articles ) | Sep 24, 2007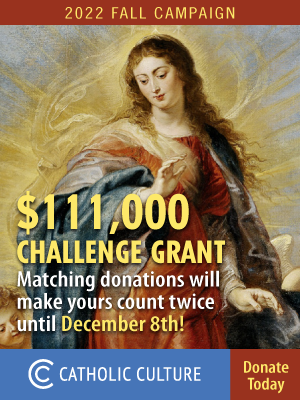 Should Columbia University provide a platform for Ahmadinejad? Should a university, in the interest of academic freedom and open debate, be ready to host Hitler?
Most reasonable people would draw the line somewhere. Open debate is a very valuable thing, but if a university doesn't stand for something-- if professors don't know what they profess-- then students are being asked to pay $40- 50,000 a year for a product that the purveyors cannot even describe, let alone deliver.
Administrators at Columbia can't discover a principle that would lead them to exclude Ahmadinejad from a civilized debate. That's Columbia's problem. But a Catholic university should have a grasp on certain principles: the foundational truths of the faith. Someone who contradicts those truths still has the right to free speech, but the university has no obligation to provide him with a forum.
Ideally, a Catholic university should be bold enough to make this sort of statement openly. But if it takes a manufactured "scheduling conflict" to protect a principle, that's not the worst thing in the world.
Sound Off!
CatholicCulture.org supporters weigh in.
All comments are moderated. To lighten our editing burden, only current donors are allowed to Sound Off. If you are a current donor, log in to see the comment form; otherwise please support our work, and Sound Off!
Posted by: John Chrysostom - Jan. 05, 2010 7:10 PM ET USA

This is an excellent commentary. If I can reword the last part to make a point: "Look all you people who are personally pro-life but who vote for pro-abortions candidates, the blood stains on your hands are from the innocent children you helped to murder because you voted for candidates who considered themselves surgeons, and were proud to work to destroy those innocent lives." Repent and, in the future, vote Pro-Life!