Christopher Pelicano, Artist and Author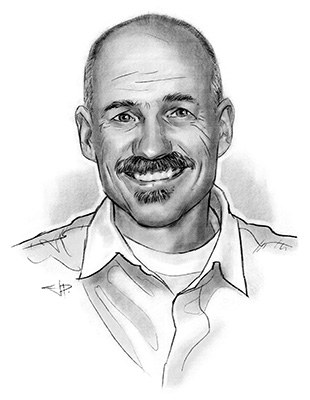 Quick Facts
Accomplished graphic designer, illustrator, and painter
Married 29 years, with eight children
Lives and works near Greenville, South Carolina
Enjoys painting and reading for personal enrichment, and swinging a kettlebell for penance
Chris is available for professional, personal, and religious artistic engagements. You can reach him through the contact page on this website.
Bio
Christopher Pelicano has been a longtime supporter of CatholicCulture.org, contributing his editorial and artistic viewpoints. He began contributing commentary to the site in early 2012.
Chris has more than 30 years of experience in graphic design, illustration, and creative problem solving, including many Catholic projects. (He illustrated the author bio sketches on this website, including his own!)
He has 16 years experience as a staff artist providing concept design and art direction for many Fortune 500 companies. He has delivered creative solutions to local, national, and international clients across a wide range of industries, including automotive, telecommunications, heavy industry, technology, publishing, education, and health care.
Chris possesses a skill set that impacts every stage of the creative problem-solving and delivery process, from content design and concept renderings through finished artwork and production. He adds a wide variety of design skills, illustrative styles, project management, and business experiences.
Most recently on this site:
View all articles