Ordinary Time: August 23rd
Optional Memorial of St. Rose of Lima, virgin
» Enjoy our Liturgical Seasons series of e-books!
Old Calendar: St. Philip Benize, confessor
The first canonized saint of the Western Hemisphere, Rose of Lima (1586-1617) might also be considered a type of the special vocation of contemplative-in-the-world. Inspired by the example of St. Catherine of Siena, Rose became a Dominican lay tertiary and devoted herself to works of active charity while living a life of extreme austerity. She longed to evangelize the Indians, not at all discouraged by the thought that they would probably kill her. St. Martin de Porres and St. John Masias were among her friends. She died at the age of 31, praying, "Lord, increase my sufferings, and with them increase your love in my heart."
Before the reform of the General Roman Calendar St. Rose's feast was celebrated on August 30. Today was the feast of St. Philip Benize, who was born in Florence of the noble Benizi family on the feast of the Assumption, and died on the octave of the Assumption in Todi, Italy. A man of unusual ability, he took a medical course in Padua, and practiced medicine in Florence. But the medical profession left him dissatisfied, and he joined the Servite Order as a lay brother, performing the most humble tasks in the monastery. Ordained a priest out of obedience, he became master of novices and finally general of the Order. He restored peace in the civil wars of Italy, and assisted at the Ecumenical Council of Lyons. Amid all these honors, he lived a life of great humility always considering himself as the worst of sinners and deserving the punishment of hell.
---
St. Rose of Lima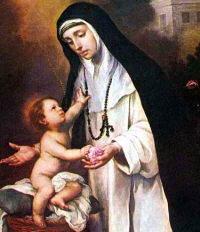 Rose of Lima, a member of the Third Order of St. Dominic, was the "first blossom of sanctity that South America gave to the world." Hers was a life heroic in virtue and penance. She expiated the evils perpetrated by the conquerors of the land in their lust for gold. For many her life was a silent sermon of penance. Pope Clement X stated in the bull of canonization: "Since the discovery of Peru no missionary has arisen who effected a similar popular zeal for the practice of penance."
Already as a five-year-old child (born 1586), Rose vowed her innocence to God. While still a young girl, she practiced mortifications and fasts that exceeded ordinary discretion; during all of Lent she ate no bread, but subsisted on five citron seeds a day. In addition, she suffered repeated attacks from the devil, painful bodily ailments, and from her family, scoldings and calumnies. All this she accepted serenely, remarking that she was treated better than she deserved. For fifteen years she patiently endured the severest spiritual abandonment and aridity. In reward came heavenly joys, the comforting companionship of her holy guardian angel and of the Blessed Virgin. August 24, 1617, proved to be the day "on which the paradise of her heavenly Bridegroom unlocked itself to her." Excerpted from
The Church's Year of Grace
, Pius Parsch
Patron:
Against vanity; Americas; Central America; embroiderers; florists; gardeners; India; Latin America; needle workers; New World; people ridiculed for their piety; Peru; Phillipines; diocese of Santa Rosa, California; South America; vanity; Villareal Samar, Phillipines; West Indies.
Symbols:
Crown of roses and thorns; needle and thimble; spiked crown; iron chain; Anchor Holy Infant; roses.
Often Portrayed As:
Dominican tertiary holding roses; Dominican tertiary accompanied by the Holy Infant.
Things to Do:
---
St. Philip Benize (or Benozzi)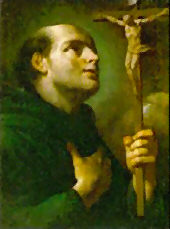 St. Philip had special talents for leadership and organization; he was the second founder of the Servites and a great missioner. Of him the Breviary says: "His love and sympathetic consideration for the poor was truly remarkable. On one occasion he gave his own clothing to a destitute leper at Camiliano, a village near Siena, and immediately the poor, sick beggar was healed. The report of the miracle spread far and wide, and many of the cardinals who had assembled at Viterbo after the death of Clement IV (1268) for the election of Christendom's chief shepherd were minded to choose Philip, whose angelic life and mature wisdom were universally acknowledged. But as soon as the saint became aware of this, he went into hiding upon a hill until Gregory X (1271-1276) had been elected; for he sought to be spared that burdensome dignity."
Philip died at Todi in Tuscany. During his last hours he requested the attending Brother to bring him his book. The Brother did not understand what he meant. "The crucifix," the saint added. That was the book the saint had studied all the days of his life. Excerpted from
The Church's Year of Grace
, Pius Parsch
Patron:
Sergio Osmena, Zamboanga del Norte, Philippines.
Symbols:
Chariot; olive branch; red robes; surgical instruments; two angels holding three crowns.
Things to Do:
In the former Collect for St. Philip, the Church focused attention upon humility as our saint's most noteworthy virtue: "In the life of St. Philip You have provided for us a splendid example of humility." The manual from which he learned this virtue was the Crucifix. Say the Prayer Before A Crucifix and spend a little time meditating on Our Lord's humility.
An appeal from our founder, Dr. Jeffrey Mirus:

Dear reader: If you found the information on this page helpful in your pursuit of a better Catholic life, please support our work with a donation. Your donation will help us reach seven million Truth-seeking readers worldwide this year. Thank you!


Recent Catholic Commentary
Top Catholic News
Most Important Stories of the Last 30 Days