We have $161,839 to go in our Fall Campaign. Every penny is used to strengthen the Church. See details!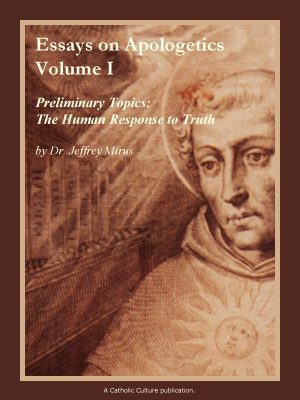 Essays in Apologetics, Vol. I
Preliminary Topics: The Human Response to Truth
by Jeffrey A. Mirus Ph.D.
Book Description
What initial territory needs to be cleared before we can effectively explain and defend our Faith? Dr. Jeff Mirus, who founded the apologetics program at Christendom College in addition to establishing Trinity Communications and CatholicCulture.org, explores that question in this first volume of his ongoing apologetical essays. This collection includes essays from 2004 to 2011 which focus on preliminary issues: The disposition of the apologist, impediments to Faith, problems with how our contemporaries approach reality and deal with truth, modern attitudes toward science, and even the way we think of the Church.
Table of Contents
Introduction to Apologetics Volume I
Apologetics: First of All, I'd Like to Thank Myself
Friendly Persuasion
The Obligatory Nature of Truth
The Universality of Truth
I Know, and So Do You
Modern Knowledge
The Meaning of Newman's Grammar of Assent
Slavery of the Mind: The Cultural Case against the Church
Enslaved by the Dictatorship of Relativism
Mindless Ways of Limiting God
How We Think
Evolution: Thinking Clearly about Randomness
Evolution and the Faith, Revisited
Eliminating the God of the Gaps to Make Room for God Himself
A New Apologetics
More Impediments
Revelation Sheds Light on Natural Law
Through a Glass Darkly
Apologetics and Faith: Different Convictions
Understanding Proselytism
The Implausible God Who Died
Eucharistic Astonishment
The Church Perfect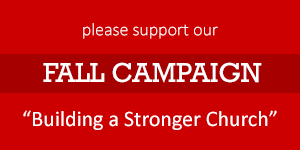 Recent Catholic Commentary
Top Catholic News
Most Important Stories of the Last 30 Days