Critical need by 8/31:   $10,000 to cover a crippling immediate shortfall.   $5,360 to go.   Please help now!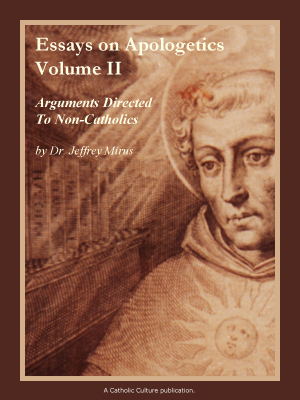 Essays in Apologetics, Vol. II
Arguments Directed to Non-Catholics
by Jeffrey A. Mirus Ph.D.
Book Description
How we go about explaining and defending the Faith depends very much on our audience. This second volume of Dr. Jeff Mirus' collected essays in apologetics includes essays written between 2004 and 2011 which primarily address those who are either not religious at all, not Christian, or at least not Catholic. These topics include natural theology, the argument from conscience, the nature of Revelation, the Resurrection of Christ, the role of the Bible, the primacy of Peter and the authority of the Church. This volume also includes the eleven-part "Why Be Catholic" series. The author holds his Ph.D. from Princeton University and has written frequently on apologetics over the past forty years.
Table of Contents
Introduction
Intimations of Immortality
Elegance at the Core of Creation
Religion 101: Why All Faiths Are Not the Same
The Argument from Conscience
The Case for Original Sin
Resurrection Theory I: Did the Disciples Steal the Body?
Resurrection Theory II: Did Our Lord Die or Swoon?
Resurrection Theory III: Were the Disciples Seeing Things?
The Tomb of Jesus and the Christ Who Saves
Assessing the Messiah
Up to Date on the Shroud
Who wrote the gospels? How do we know?
Apostolic Authority and the Selection of the Gospels
Authority Both Apostolic and Petrine
Scripture Alone: What Does the Bible Say?
Scripture in the Church: Community and Authority
It's the Church's Bible
The Coming of Jesus Christ in the Flesh
Conscience and Authority: The Protestant Dilemma
Private Judgment and the Rise of Relativism
How Do We Know Our Faith?
The Primacy of Peter
Why Mary Matters
Mary Ever Virgin
Sing of Mary
Why Be Catholic? 1: Revelation
Why Be Catholic? 2: Freedom
Why Be Catholic? 3: Suffering
Why Be Catholic? 4: Resurrection
Why Be Catholic? 5: Perfection
Why Be Catholic? 6: Divine Intimacy
Why Be Catholic? 7: Tradition
Why Be Catholic? 8: Incarnation
Why Be Catholic? 9: The Fall
Why Be Catholic? 10: Reason
Why Be Catholic? 11: Peace
When Two Wrongs Make a Right


Recent Catholic Commentary
Top Catholic News
Most Important Stories of the Last 30 Days