We must match $2,540 more in 3 days to receive a $35,000 challenge grant. Please help!
Catholic Prayer: Blessing of Epiphany Water and Chalk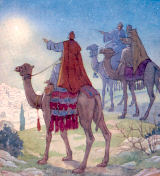 Description:
It is traditional for parish priests to bless water on the eve of Epiphany, which is used for the blessing of homes the next day. Chalk for each family is also blessed so that they may mark the names of the three Magi over their doors, as a witness of their faith and protection against evil. This blessing is from the older version of the Roman Ritual.

The feast of manifestation, or Epiphany, is traditionally celebrated the 12th day after Christmas, January 6th. In the dioceses of the United States this feast has been moved to the Sunday between January 2 and January 8.
Prayer:
O Lord God, bless this Thy creature chalk that it may be used for the salvation of the human race. Through the invocation of Thy most Holy Name grant that whoever shall take of this chalk and write with it upon the doors of his house the names of Thy saints, Caspar, Melchior and Balthasar, may through their merits and intercession receive health of body and protection of soul. Through Christ our Lord. Amen.
The blessing of water on the vigil of the Epiphany could well be performed with full solemnity before the main altar. If this is not possible and no priest is available, the prayers and hymns might be used as a vigil preparation at home. The full text for the blessing may be found in Volume three of Father Weller's English translation of the Roman Ritual.
Prayer Source:
Twelve Days of Christmas, The by Elsa Chaney, The Liturgical Press, Collegeville, MN, 1955
Recent Catholic Commentary
Top Catholic News
Most Important Stories of the Last 30 Days