Ordinary Time: July 13th
Optional Memorial of St. Henry
» Enjoy our Liturgical Seasons series of e-books!
Old Calendar: St. Mildred, abbess (Hist)
Henry II, successively Duke of Bavaria, King of Germany and Emperor, devoted himself to the spread of religion by rebuilding churches and founding monasteries. Until the end of his life he displayed the virtues of a great saint. Together with his wife, St. Cunegunda, he founded the bishopric of Bamberg and, at his death in 1024, was buried in the cathedral there; his holy wife was laid by his side fifteen years later. According to the 1962 Missal of Bl. John XXIII the Extraordinary Form of the Roman Rite, St. Henry's feast is celebrated on July 15.
Historically today is the feast of St. Mildred the first abbess of the English monastery of Minster-in-Thanet founded by her mother, Saint Ermenburga. As a nun who mortified herself with frequent fasts, Mildred was characterized by an exceptional humility, gentleness, and serenity of spirit. She was remembered for her compassion to widows, orphans, the poor, and the troubled. Her death came at the end of a prolonged and painful illness. Following the translation of Mildred's body to Canterbury in 1033, her relics became highly revered by the city's pilgrims.
---
St. Henry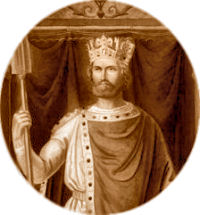 Henry, surnamed the Pious, Duke of Bavaria, became successively King of Germany and Emperor of the Romans; but not satisfied with a mere temporal principality, he strove to gain an immortal crown, by paying zealous service to the eternal King. As emperor, he devoted himself earnestly to spreading religion, and rebuilt with great magnificence the churches which had been destroyed by the infidels, endowing them generously both with money and lands. He built monasteries and other pious establishments, and increased the income of others; the bishopric of Bamberg, which he had founded out of his family possessions, he made tributary to St. Peter and the Roman Pontiff. When Benedict VIII, who had crowned him emperor, was obliged to seek safety in flight, Henry received him and restored him to his see.
Once when he was suffering from a severe illness in the monastery of Monte Cassino, St. Benedict cured him by a wonderful miracle. He endowed the Roman Church with a most copious grant, undertook in her defense a war against the Greeks, and gained possession of Apulia, which they had held for some time. It was his custom to undertake nothing without prayer, and at times he saw the angel of the Lord, or the holy martyrs, his patrons, fighting for him at the head of his army. Aided thus by the divine protection, he overcame barbarous nations more by prayer than by arms. Hungary was still pagan; but Henry having given his sister in marriage to its King Stephen, the latter was baptized, and thus the whole nation was brought to the faith of Christ. He set the rare example of preserving virginity in the married state, and at his death restored his wife, St. Cunigund, a virgin to her family.He arranged everything relating to the glory or advantage of his empire with the greatest prudence, and left scattered throughout Gaul, Italy, and Germany, traces of his munificence towards religion. The sweet odor of his heroic virtue spread far and wide, till he was more celebrated for his holiness than for his imperial dignity. At length his life's work was accomplished, and he was called by our Lord to the rewards of the heavenly kingdom, in the year of salvation 1024. His body was buried in the church of the blessed apostles Peter and Paul at Bamberg. God wished to glorify His servant, and many miracles were worked at his tomb. These being afterwards proved and certified, Eugenius III inscribed his name upon the catalogue of the saints. Excerpted from
The Liturgical Year
, Abbot Gueranger O.S.B.
Patron:
Basel, Switzerland; Benedictine Oblates; childless people; disabled people; dukes; handicapped people; kings; people rejected by religious orders; physically challenged people; sterility.
Symbols:
Sword and church; lily; crown; dove on an orb; model of Bamburg cathedral.
Things to Do:
Read more about St. Henry and his wife, St. Cunegund.
St. Henry was a Christian emperor who acted justly. It is all too obvious today what a danger it is to have leaders who do not value the God-given dignity and rights of each human person. Offer a Mass, make a holy hour or say a rosary for your elected officials.
---
St. Mildred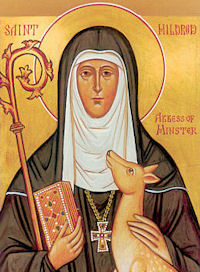 St. Mildred was the daughter of King Merewald of Magonset and his wife, St. Ermenburga (alias Aebbe of Minster-in-Thanet); and therefore sister of SS. Milburga and Milgith. At an early age, her mother sent her to be educated at Chelles in France, where many English ladies were trained to a saintly life.
A young nobleman, related to the Abbess of Chelles, entreated her to arrange that he might marry this English princess. The abbess tried to persuade her, but Mildred said her mother had sent her there to be taught, not to be married, and all the abbess's advice, threats and blows failed to persuade her to accept the alliance offered to her. At last the abbess shut her up in an oven in which she had made a great fire; but after three hours, when she expected to find not only her flesh but her very bones burnt to ashes, the young saint came out unhurt and radiant with joy and beauty. The faithful, hearing of the miracle, venerated Mildred as a saint; but the abbess, more infuriated than ever, threw her on the ground, beat, kicked and scratched her and tore out a handful of her hair. Mildred found means to send her mother a letter, enclosing some of her hair, torn from her head by the violence of the abbess; and Queen Ermenburga soon sent ships to fetch her daughter. The abbess, fearing that her evil deeds should be made known, would, on no account, give permission for her departure. Mildred, however, fled by night; but, having in her haste forgotten some ecclesiastical vestments and a nail of the cross of Christ which she valued extremely, she managed to return for them and brought them safely away. Upon her arrival back in England, she landed at Ebbsfleet where she found a great square stone, miraculously prepared for her to step on from the ship. The stone received, and retained, the mark of her foot and was afterwards removed to the Abbey of Minster-in-Thanet and kept there in memory of her. Many diseases are said to have been cured for centuries after, by water containing a little dust from this stone. It was often removed from its first situation, until an oratory was built for it.With her mother's consent, Mildred joined her at her foundation of Minster-in-Thanet. She was given the veil by Theodore, Archbishop of Canterbury, at the same time as seventy other nuns. On St. Ermenburga's death, Mildred succeeded her as Abbess of the community, to whom she set a holy example and by whom she was much beloved. An old story is recorded that one night, while she was praying in the church of her monastery, the devil blew out her candle, but an angel drove him away and relighted it for her.Mildred died at Minster of a lingering and painful complaint, on 30th July AD 732. She was succeeded by St. Edburga of Minster-in-Thanet. During the latter's rule, it apparently happened that the bell-ringer fell asleep before the altar. The departed Mildred awoke him with a box on the ear, exclaiming, "This is the oratory, not the dormitory!"She continued to be an extremely popular saint, eclipsing the fame of St. Augustine, in the immediate neighborhood of her monastery, where the place that used to be proudly pointed out as that of his landing came to be better known as "St Mildred's Rock." In 1033, St. Mildred was translated to St. Augustine's Abbey in Canterbury and minor relics also passed from here to Deventer in Holland where she was honored on 17th July; though her feast, in England, is three days earlier. There was, however, a rival set of relics which were said to have been hidden at Lyming, with those of her sister, Milgitha, during the Viking devastation. These were given to the Religious Hospital of St. Gregory in Canterbury, by Archbishop Lanfranc in 1085. Mildred is represented in art holding a church and accompanied by three geese, as she was protector against damage by such wild birds.Excerpted from Agnes Dunbar's
A Dictionary of Saintly Women
(1904)
Things to Do:
An appeal from our founder, Dr. Jeffrey Mirus:

Dear reader: If you found the information on this page helpful in your pursuit of a better Catholic life, please support our work with a donation. Your donation will help us reach five million Truth-seeking readers worldwide this year. Thank you!

Progress toward our April expenses ($18,070 to go):

Recent Catholic Commentary
Top Catholic News
Most Important Stories of the Last 30 Days