We have $168,671 to go in our Fall Campaign. Every penny is used to strengthen the Church. See details!
de form follows dysfunction
By Diogenes (bio - articles ) | Mar 17, 2006
In the rest of the world, it's still a Friday in Lent, and for our mortification Gerald Augustinus posts a flattering shot of the Catholic Rektorat Church near Vienna.
Makes your thoughts soar heavenward, doesn't it? The sort of place that effortlessly conduces to adoration. I'm sure brides-to-be must seek it out so that their own nuptials might reflect the eucharistic Wedding Feast of the Lamb: Christ's love poured out upon his Spouse. The architect's use of bold cantilevers and contrasting textures shows that he drew his inspiration from the deep wells of Christian patrimony. The casemate at Longues sur Mer (Normandy) illustrates the principal thematic elements later incorporated -- with suitable adaptations -- into the artist's design.
Note the "welcoming effect" of the horizontally vectored recesses leading into the narthex. The stepped platform, moreover, anticipates with its half-hexagon the Vosko-style altar dais within, permitting the congregation to approach the celebratory Center unhindered. We are a 150mm People.
Below is yet another Austrian Catholic church, incarnating a cleaner, more minimalist approach to the holy mysteries.
A commenter on Jeff Miller's blog dubbed the church "dominoes vobiscum." The Mordor Incorporated effect puts me in mind of P.J. O'Rourke's take on the Epcot Center: "the Kodak pavilion's sleek functionalism is for strictly decorative purposes."
Of course, one could argue that the "function" served by this brand of functionalist architecture is not the purpose of the people who use the building, but the gratification of the architect (and his patron). Viewed in this light, both the Bunkerkirche and the Black Widow act as a big, stumpy middle finger raised in contempt of the Church Catholic and of the faithful who love her. The fact that these same faithful are obliged to pay for the insult to their own piety makes the stunt -- from the artiste's perspective -- all the more satisfying.
Look at it this way: if you were a deeply twisted bishop or pastor; if you hated to see people pray, if you harbored profound resentments against the Church and wanted to make her party to her own degradation and demise; if you had your hand on the building-fund checkbook, would you want to buy yourself a Chartres?
An appeal from our founder, Dr. Jeffrey Mirus:

Dear reader: If you found the information on this page helpful in your pursuit of a better Catholic life, please support our work with a donation. Your donation will help us reach seven million Truth-seeking readers worldwide this year. Thank you!

Our Fall Campaign




Progress toward our year-end goal ($168,671 to go):
Sound Off!
CatholicCulture.org supporters weigh in.
All comments are moderated. To lighten our editing burden, only current donors are allowed to Sound Off. If you are a donor, log in to see the comment form; otherwise please support our work, and Sound Off!
Posted by: Publicus - Mar. 21, 2006 1:43 PM ET USA

You are spot on, Sparch. I have been serving on the building committee of my parish (we break ground on Palm Sunday). The architect designed our new Church but we told him precisely what we wanted and gave them feedback every step of the way. We don't even know if the architects of these monstrosities were Catholic. That aspect of building a church is merely a business activity. Look no further than the pastor and his ordinary for the blame here.

Posted by: sparch - Mar. 20, 2006 5:57 PM ET USA

It can also be said that the owners tastes and perceptions are reflected in person he selects for his architect. The owner and the architect must be compatable. The final design is an extension of the owner and the architect

Posted by: sparch - Mar. 20, 2006 5:55 PM ET USA

I am an architect. Although one can say that the architect is not responsible for the design but only following orders, I mean the program, the architect, through his design style, expresses the perceived function of the building through the design of the building. It's that simple. It is not the architects ego that is displayed but his perceprtion of the proposed building, his client and his world.

Posted by: - Mar. 20, 2006 9:54 AM ET USA

There is just too much irony and truth in the realism or sarcasm.

Posted by: - Mar. 18, 2006 10:53 PM ET USA

Is that first junk-pile of stone slabs actually a church? The last item looks like a maximum-security prison. Perhaps a freudian slip by an apostate church architect?

Posted by: Pseudodionysius - Mar. 18, 2006 4:17 PM ET USA

The first is called the Church of Rene Descartes, Our Lady of Geometry.

Posted by: rpp - Mar. 17, 2006 9:19 PM ET USA

I think we should limit our criticism of places of worship to Catholic, or at least Christian churches.

Posted by: dover beachcomber - Mar. 17, 2006 6:57 PM ET USA

"Of course, one could argue that the "function" served by this brand of functionalist architecture is not the purpose of the people who use the building, but the gratification of the architect (and his patron)." Bam! Direct hit! It's the same reason why so much R-rated trash is turned out by Hollywood when it isn't as profitable as less offensive stuff: self-gratification and the praise of elite peers.

Posted by: leila - Mar. 17, 2006 6:23 PM ET USA

A very good friend of mine is married to an architect. She often points out to me that one mustn't blame the architect for these monstrosities. First, he's hired -- it's not as if he holds the pastor or bishop at gunpoint. Second, he has what's called the program -- the instructions which tell him just what the client wants, and that's what he produces -- enfleshing the ideas, so to speak. Yup, just blame the bishop.

Posted by: Quadratus - Mar. 17, 2006 6:19 PM ET USA

More from the "spirit of Vatican II".

Posted by: benedictusoblatus - Mar. 17, 2006 4:45 PM ET USA

Note to the 'obedience is everything' crowd: If this monstrosity is a "Catholic" church it must have been consecrated by the diocesan bishop. The bishop who consecrated it was appointed by Rome. The people must obey and worship there. Eschewing this wilderness venue for a Tridentine mass offered in a Holiday Inn down the street by a SSPX'er would be a schismatic act, to follow the typical modernist logic. This is simply madness. No Catholic can be ordered to assist at Mass in such a place.

Posted by: - Mar. 17, 2006 3:45 PM ET USA

I grew up next to that thing (first photo). We'd climb up on it and run around on the various levels. Wotruba, a leftist atheist was the teacher of the Stalinist sculptor Hrdlicka.

Posted by: Coemgen - Mar. 17, 2006 1:11 PM ET USA

Concerning the third picture... if you just surrounded that building with muslims walking in a circle around it, why I'd swear we were in Mecca during the Hajj.

Posted by: - Mar. 17, 2006 12:40 PM ET USA

I think I recognize that second photo -- it's that famous French Basilica of St. Maginot du Line! Right, Di?

Posted by: www.inquisition.ca - Mar. 17, 2006 12:23 PM ET USA

Ah! Saint Diogenes, Patron of Sanctifying Sarcasm! Another classic! I just hope you're not married. Your wife would have a terrible time with you when you go into "OTR Mode"! :-)

Posted by: - Mar. 17, 2006 10:59 AM ET USA

Whoops! Sorry, Gus, my fellow San Diegan. You posted the shot, not posited the thing.

Posted by: - Mar. 17, 2006 10:56 AM ET USA

Augustinus must have drawn his inspiration from the IZ in Baghdad. Such a peaceful image, the pieces suggesting a childlike harmony. Looks to be cockroach-proof, too.

Posted by: Sir William - Mar. 17, 2006 10:51 AM ET USA

My kids could do a better design job with Legos. In fact, someone else has: http://www.amyhughes.org/lego/church/photosfirst.html Of course, this is probably for protestant Lego people,but its hard to say anymore. Sad when toys are more conducive to prayer and worship than actual buildings....

Posted by: Remigius - Mar. 17, 2006 10:42 AM ET USA

So much for ressourcement as the fount of renewal! Is this how we return to pristine Christianity of the Patristic period? Any wonder that so many in Europe see the Lefebvre movement as the only answer to the crisis of faith revealed by these monstrous impositions? My suggestion: Remove the Blessed Sacrament from these "facilities" and call in the artillery unit of the Austrian Army for some target practice.

Posted by: Charles134 - Mar. 17, 2006 9:30 AM ET USA

One of the changes the Novus Ordo made was to shorten the lavabo prayers, excising the part "I have loved, O Lord, the beauty of Thy House, and the place where Thy Glory dwelleth." Lex orandi, &c, &c....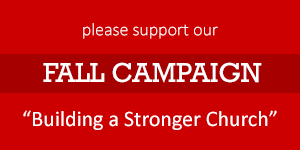 Recent Catholic Commentary
Top Catholic News
Most Important Stories of the Last 30 Days