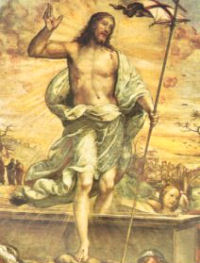 "Lord of time; he is its beginning and its end; every year, every day and every moment are embraced by his Incarnation and resurrection, and thus become part of the 'fullness of time'." — Tertio Millennio Adveniente
The Easter Mystery Celebrated in Ordinary Time
Parents are challenged to keep the Easter mystery alive[7] in their families throughout the season of Ordinary Time; to focus on the mysteries of Christ which the Church sets before them in the weekly Mass readings and to apply those readings to their daily lives.
In this way, faith will bear fruit within their homes, intensifying through the fertile weeks of Ordinary time until its conclusion, the crowning feast of Christ the King.
Joyful Expectation at Year's End
At the close of every Liturgical Year may we look forward with renewed hope to Christ's coming again in glory to reign as Lord forever. For it is Jesus Christ we seek when we strive to live the Liturgical Year with the Church. He is the "Lord of time; he is its beginning and its end; every year, every day and every moment are embraced by his Incarnation and resurrection, and thus become part of the 'fullness of time'."[8]