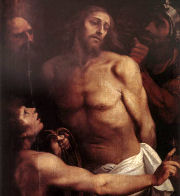 Self-Denial
This is the area that tests our will-power. We have the opportunity to give up innocent pleasures without complaining: radio, TV, internet, personal time or leisure, secular reading. We can choose one area in Lent and try to persevere throughout the 40 days. This is not just a test of wills—the main intention is purification, and making reparation for the offenses against the Mystical Body of Christ. So even if these actions are done in private or secret, they help us grow in our spiritual life, and benefit the whole Church. The following are some concrete suggestions:
Reduce or eliminate time surfing the Internet or playing video games.
Curb forms of entertainment like TV, dining out, movies, expensive meals.
Give up smoking, caffeine, beer and liquor.