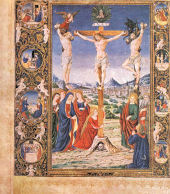 Education
During Lent (and throughout the year) we need spiritual enlightenment. We can find this through spiritual reading, both individually and as a family. This is a prerequisite to a continued growth in the spiritual life. Maria Von Trapp suggests three categories in our Lenten reading program:
Something for the mind. We should do some research, study the papal encyclicals, read the Catechism of the Catholic Church, delve into Church history, study Catholic philosophy.
Something for the soul. This should be deeper spiritual reading that gives a program, guidance, and spiritual direction, and could include writings of the saints like St. Teresa of Avila, St. Therérèse of Lisieux or St. Francis de Sales.
Something for the heart. We need inspiration. The best way is to read biographies of Christ, Mary, saints or people who put their spiritual life into action. Bishop Fulton Sheen's Life of Christ is excellent Lenten reading.
Scripture is an excellent source for all these categories. The Church strongly encourages study and meditative reading of the Bible.