Joy to the World the Savior reigns, let men their songs employ.
Catholic Culture offers this section to help you experience the joy of Christmas by keeping a spiritual focus on the season.
Throughout this wonderful time there will always be much hustle and bustle, shopping and baking and gift giving. But we hope you will refer here often for ideas and spiritual nuggets to increase your Christmas joy.
Let us try to celebrate Christmas with the innocence and humility of children always keeping in mind the wonderful birth of the Christ Child.
Joy to the world the Lord has come, let earth receive her King.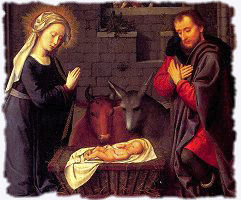 For a child is born to us, a son is given us; upon his shoulder dominion rests. They name him Wonder-Counselor, God-Hero, Father-Forever, Prince of Peace.
— Isaiah 9:5