Prayers and Portraits in Washington
By Dr. Jeff Mirus (bio - articles - email) | Jan 05, 2007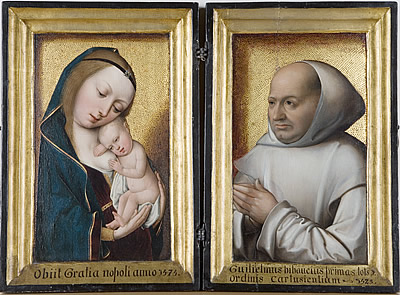 The free museums in Washington, DC have been doing us proud lately. Since November 12, 2006, the National Gallery has been hosting an exhibition entitled Prayers and Portraits: Unfolding the Netherlandish Diptych. The exhibition runs through February 4th.

If you can get to Washington this weekend (January 6-7, 2007), you'll be able to see not only the Prayers and Portraits exhibit but In the Beginning: Bibles Before the Year 1000 at the Smithsonian (closes Sunday).
Prayers and Portraits features 89 paintings, including 37 complete diptychs. Some of these pairs of paintings are being reunited after centuries of separation. Diptychs were very popular in northern Europe during the Renaissance, and the exhibition features the works of such masters as Jan van Eyck, Hugo van der Goes, Hans Memling and Rogier van der Weyden.
Most frequently, the paired paintings depict a sacred scene on one panel with a portrait of a donor or other person contemplating the scene on the other panel. Diptychs were very frequently hinged, to be closed like a book, sometimes with the donor's family coat of arms painted on the outside. At other times, the paintings were made on the front and back of the same panel, or were developed as pendants designed to hang side by side.
After the exhibit closes in Washington on February 4th, it will open at the Koninklijk Museum voor Schone Kunsten in Antwerp (March 3 through May 27, 2007).
And yes, I know it looks strange to have a huge picture of me on this page along with a tiny picture of a diptych which features a Madonna and Child. My apologies. We're working on a new design!
Sound Off!
CatholicCulture.org supporters weigh in.
All comments are moderated. To lighten our editing burden, only current donors are allowed to Sound Off. If you are a donor, log in to see the comment form; otherwise please support our work, and Sound Off!