The Insights eNewsletter
Insights provides critical perspective on the issues that affect your life as a Catholic today. Delivered twice weekly.
This Insights eNewsletter was sent to subscribers on March 15, 2013.
eNewsletter Subject: The Era of Pope Francis Begins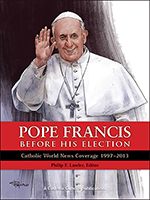 Pope Francis is now beginning his round of duties. The news stories are flying fast and furious. Rather than list them all here for you, please consult our ongoing news rollup: Who is Pope Francis and how is the world responding?
What we do have right here is Phil Lawler's initial characterization of our new pope: The early signs are clear. Pope Francis is a reformer.
As the picture in this message indicates, CatholicCulture.org has put together a new ebook which collects all the news coverage we have in our archives of Pope Francis before he became pope. This is a small but interesting background collection, about 30 Catholic World News stories over the past seventeen years.
This convenient little book is available exclusively to those who make a donation in any amount to CatholicCulture.org between now and the end of the month. As a token of appreciation, I will email you a ZIP file containing all three versions of the ebook—MOBI for Kindle; EPUB for Nook, iPAD and other standard eReaders; and PDF for virtually all computing devices....
[more content for subscribers]
There's more to this eNewsletter! Sign up to receive complete Insights!