Easter: May 15th
Optional Memorial of St. Isidore (USA)
» Enjoy our Liturgical Seasons series of e-books!
Old Calendar: St. John Baptist de la Salle, confessor; St. Dymphna, virgin and martyr (Hist)
Isidore was a Spanish laborer who worked most of his life as a ploughman for a nobleman who lived near Madrid, Spain. Although working many hours a day, he never failed to attend daily Mass, and spend time praying before the Holy Eucharist. He married a maid-servant, Maria de la Cabeza, who was also canonized a saint. They were always willing to help their neighbors and worked with the poor in the city slums. In 1947, he was proclaimed the Patron of the National Rural Life Conference in the United States.
According to the 1962 Missal of Bl. John XXIII the Extraordinary Form of the Roman Rite, today is the feast of St. John Baptist de la Salle. He was inspired by God to give a Christian education to the poor, he founded the Brothers of the Christan Schools which soon spread throughout the world. In private life he treated himself with extreme rigor. He died in 1719. His feast in the Ordinary Form of the Roman Rite is celebrated on April 7.Historically today is the feast of St. Dymphna, the daughter of a pagan Celtic chieftain and a Christian. She fled from home on the death of her mother to escape the incestuous interest of her father and went to Antwerp accompanied by her confessor, St. Gerebernus, and two companions. They then built an oratory at Gheel where they lived as hermits. Tracked down by Dymphna's father, the two companions and the priest were murdered by his men, and Dymphna was beheaded by her father when she refused to return with him. We continue the
Novena to the Holy Spirit
.
---
St. Isidore the Farmer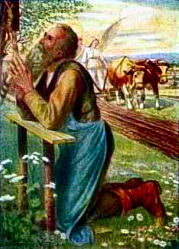 When he was barely old enough to wield a hoe, Isidore entered the service of John de Vergas, a wealthy landowner from Madrid, and worked faithfully on his estate outside the city for the rest of his life. He married a young woman as simple and upright as himself who also became a saint-Maria de la Cabeza. They had one son, who died as a child.
Isidore had deep religious instincts. He rose early in the morning to go to church and spent many a holiday devoutly visiting the churches of Madrid and surrounding areas. All day long, as he walked behind the plow, he communed with God. His devotion, one might say, became a problem, for his fellow workers sometimes complained that he often showed up late because of lingering in church too long.He was known for his love of the poor, and there are accounts of Isidore's supplying them miraculously with food. He had a great concern for the proper treatment of animals.He died May 15, 1130, and was declared a saint in 1622 with Ignatius of Loyola, Francis Xavier, Teresa of Avila and Philip Neri. Together, the group is known in Spain as "the five saints."
Patron:
Farmers; farm workers; ranchers; rural communities; Madrid, Spain; National Catholic Rural Life Conference in the United States; death of children; for rain; livestock.
Symbols:
White oxen; spade; hoe or rake; plough.
Things to Do:
---
St. Dymphna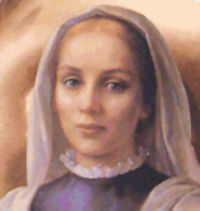 Daughter of a pagan Irish chieftain named Damon, and a beautiful devoted Christian woman whose name has not come down to us. Her mother died when Dymphna was a teenager. Her father searched the Western world for a woman to replace his wife, but none could. Returning home, he saw that his daughter was as beautiful as her mother, and maddened by grief, he made advances on her. She fought him off, then fled to Belgium with Saint Gerebernus, an elderly priest and family friend.
Dymphna's father searched for them, and his search led to Belgium. There an innkeeper refused to accept his money, knowing it was difficult to exchange. This told Damon that his daughter was close - it would be unusual for a village innkeeper to know a lot about foreign currency, and his knowledge indicated that had recently seen it. The king concentrated his search in the area. When he found them in Gheel, he beheaded Gerebernus, and demanded that Dymphna surrender to him. She refused, and he killed her in a rage.The site where she died is known for its miraculous healings of the insane and possessed. There is now a well-known institution on the site, and her relics are reported to cure insanity and epilepsy.—
Saints.SQPN.com
Patron:
Against sleepwalking; against epilepsy; against insanity; against mental disorders; against mental illness; epileptics; family happiness; incest victims; loss of parents; martyrs; mental asylums; mental health caregivers; mental health professionals; mental hospitals; mentally ill people; nervous disorders; neurological disorders; possessed people; princesses; psychiatrists; rape victims; runaways; sleepwalkers; therapists
Symbols:
Being beheaded by the king; kneeling at Mass while her father murders the priest Gerebernus; lamp; praying in a cloud surrounded by a group of lunatics bound with golden chains; princess holding a lamp and sword; princess with a sword holding the devil on a leash; young woman with Saint Gerebernus
Things to Do:
An appeal from our founder, Dr. Jeffrey Mirus:

Dear reader: If you found the information on this page helpful in your pursuit of a better Catholic life, please support our work with a donation. Your donation will help us reach seven million Truth-seeking readers worldwide this year. Thank you!


Recent Catholic Commentary
Top Catholic News
Most Important Stories of the Last 30 Days