Easter: April 21st
Fourth Sunday of Easter
» Enjoy our Liturgical Seasons series of e-books!
Old Calendar: Third Sunday after Easter
"Jesus said: 'The sheep that belong to me listen to my voice; I know them and they follow me." Christ Himself is the Good Shepherd, who knows each one of His sheep, who gives His life for them and snatches them from the jaws of the marauding wolf. He is the true shepherd who fulfills Ezechiel's prophecy foretelling for Israel a shepherd from the end of time who was to deliver his people.
Christ's sheepfold is the Church. In the Church He bestows on us His life in the Sacraments, His word in the teaching that she gives us, all the riches of His grace to light up our way and uphold our steps as we go forward to our heavenly home; through her He acts as the one Shepherd of our souls. Appointed to lead the flock, Peter gave his life for those entrusted to his care, and ever since then the priestly ministry has assured the continuous presence in the Church of Him who remains the true Shepherd of our souls.The Fourth Sunday of Easter marks the 46th World Day of Prayer for Vocations instituted by Pope Paul VI in 1964. Parishes are especially encouraged to include prayers for an increase in vocations to the priesthood and religious life in the general intercessions on that day and the homily may focus on vocations. Pope Benedict XVI's message "
Vocations as a Sign of Hope Founded in Faith
" should be read and taken to heart.
Click here for commentary on the readings in the Extraordinary Form of the Roman Rite.
---
Sunday Readings
The first reading is taken from Acts 13:14, 43-52 and the event described takes place in the middle of St. Paul's first missionary journey. Paul and Barnabas quote Isaiah 49:6 in support of their decision to preach to the Gentiles. The Isaiah text referred to Christ, ...but now Paul and Barnabas apply it to themselves because the Messiah is "light for the Gentiles" through the preaching of the Apostles, for they are conscious of speaking in Christ's name and on his authority. — The Navarre Bible - Acts of the Apostles
The
second reading
is from the Book of Revelation 7:9, 14b-17. Last week we heard St. John describing his vision of the heavenly liturgy where he saw the Lamb of God in the Holy of Holies in His perpetual offering to God, the heavenly offering of Jesus Himself which we join at every Mass. Today we join St. John as he again views this heavenly liturgy and describes the Church in heaven (what we call the Church Triumphant) as it glorifies God.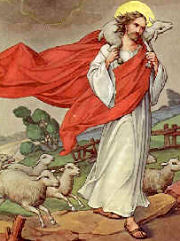 The
Gospel
is from John 10:27-30. This Sunday is often called "Good Shepherd Sunday." Jesus intended the beautiful parable of the Good Shepherd with its many consoling truths and promises for men of every century, including the twentieth. We are all too prone to evaluate the words of the Gospel in an exclusively historical sense. The liturgy's primary aim is to portray the present, not the past, to give grace and life along with history. You must, therefore, give the parable a present day context, apply it personally. After each sentence stop and say: Christ is doing this today — and to help me. The parable brings to our attention three consoling truths: Christ gives His life for His sheep; He remains with them constantly through the bond of grace; He will not rest content until there be but one flock and one shepherd.Now how do these points affect me personally? a) My Shepherd's death means my deliverance — why, even at this very moment of Mass, redemption's graces are flooding my soul. b) Between Christ and myself there must exist a closer intimacy than even that between brothers, relatives, or friends. c) It is through Christ's efforts that I have been brought into the fold, and He is ever striving to make me a more perfect member of His flock.In order to realize these ends, Christ instituted His Church. This Church is His representative. There we may approach Him, there He is close to us, there He continues His presence: "I am with you all days, even unto the consummation of the world." Through the Church He speaks to us; in the Church flow the rivers of grace from Calvary's Cross; by means of the Church Christ seeks to become united personally with each of us. Oh, if we only would regard the Church as Christ mystically present in our midst! At this point I would like to single out two ways by which Christ fulfills His office of Shepherd in the Church, viz., through His words and through His very body.The words He spoke will never die. "Heaven and earth shall pass away, but My words shall not pass away." Christ's words are as pregnant with life now as when they were first spoken. They give us the mind of our Good Shepherd as He instructs, warns, and consoles us; they are the words of a father, a mother, a brother, a friend, a judge. Once upon a time Christ's words performed miracles, they have not lost their power! "Young man, I say to you: arise. This day you shall be with Me in paradise." Treasure Christ's words most highly.Christ's body in the Eucharist gives flesh to His words in the Gospel. Never disjoin one from the other. For together they constitute our most valuable earthly treasure, together they give us the whole Christ. What He promises in the Gospel He fulfills in the Eucharist. And thus the Mass, comprising the word and the body of Christ, brings Him completely to us. In the Gospel He says, "I am the Good Shepherd"— in the Eucharistic Sacrifice the Good Shepherd becomes present. In the Gospel He proclaims, "I lay down My life for My sheep"— in the Eucharistic Sacrifice He pours His life into our souls. In the Gospel He tells us, "I know Mine and Mine know Me"— in the Eucharistic Sacrifice He fulfills His claim: Whoever eats My flesh abides in Me and I in Him. In the Gospel He says, "Other sheep I have ... them also must I bring"—through the Eucharistic Sacrifice He builds up His flock, gathering stray sheep into the fold.These, then, are our two greatest treasures, Christ's words and Christ's body. By embracing both we embrace our Savior whole and entire. —
The Church's Year of Grace
, Pius Parsch
---
Commentary for the Readings in the Extraordinary Form:
Third Sunday After Easter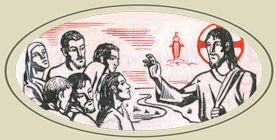 "A little while and you shall see Me no longer. . .because I go to the Father. . .And you therefore have sorrow now; but I will see you again, and your heart shall rejoice, and your joy no one shall take from you" (Gospel).
Christianity is a religion of joy! (Introit). May "those. . .in error" receive this "light" (Prayer). Jesus predicts, however, that our joy can never be perfect here. The "cross before the crown" (Alleluia Verse) would indeed be a mystery had no Jesus lived it out for us.An unbelieving "world shall rejoice" because it regards Him as dead and gone. But Christ departs only for a "little while" (Gospel) to test our love and loyalty. He shall return (as indicated by little figure of Christ in the clouds).Prepare for His coming "in the day of visitation" by good example. "Behave yourselves honorably among pagans; that they ... observing your good works" for God and country (described in the Epistle) may recognize that Christianity is a religion of joy, now and forever!Excerpted from
My Sunday Missal
, Confraternity of the Precious Blood
An appeal from our founder, Dr. Jeffrey Mirus:

Dear reader: If you found the information on this page helpful in your pursuit of a better Catholic life, please support our work with a donation. Your donation will help us reach seven million Truth-seeking readers worldwide this year. Thank you!


Recent Catholic Commentary
Top Catholic News
Most Important Stories of the Last 30 Days