Ordinary Time: August 3rd
Saturday of the Seventeenth Week of Ordinary Time
» Enjoy our Liturgical Seasons series of e-books!
Old Calendar: Finding of the Body of St. Stephen, the first martyr (Hist); St. Lydia (Hist)
Historically today is the feast of the Finding of the Body of St. Stephen, the first martyr. His body was discovered in 415 just outside Jerusalem. It was translated to Constantinople in 439 by the Empress Eudoxia, but part of the remains were taken to Rome to the Church of St. Lawrence Outside the Walls where they lie beside those of the great Roman deacon.
It is also the feast of St. Lydia, a native of Thyatira, a city in Asia Minor famous for its dye-works, whence Lydia's trade — purple seller. She was at Philippi in Macedonia when she became St. Paul's first convert in Europe and afterward his hostess.
---
The Finding of the Body of St. Stephen

The second festival in honor of the holy protomartyr St. Stephen was instituted by the Church on the occasion of the discovery of his precious remains. His body lay long concealed, under the ruins of an old tomb, in a place twenty miles from Jerusalem, called Caphargamala, where stood a church which was served by a venerable priest named Lucian.
In the year 415, on Friday, the 3d of December, about nine o'clock at night, Lucian was sleeping in his bed in the baptistery, where he commonly lay in order to guard the sacred vessels of the church. Being half awake, he saw a tall, comely old man of a venerable aspect, who approached him, and, calling him thrice by his name, bid him go to Jerusalem and tell Bishop John to come and open the tombs in which his remains and those of certain other servants of Christ lay, that through their means God might open to many the gates of His clemency. This vision was repeated twice. After the second time, Lucian went to Jerusalem and laid the whole affair before Bishop John, who bade him go and search for the relics, which, the Bishop concluded, would be found under a heap of small stones which lay in a field near his church. In digging up the earth here, three coffins or chests were found. Lucian sent immediately to acquaint Bishop John with this. He was then at the Council of Diospolis, and, taking along with him Eutonius, Bishop of Sebaste, and Eleutherius, Bishop of Jericho, came to the place. Upon the opening of St. Stephen's coffin the earth shook, and there came out of the coffin such an agreeable odor that no one remembered to have ever smelled anything like it. There was a vast multitude of people assembled in that place, among whom were many persons afflicted with divers distempers, of whom seventy-three recovered their health upon the spot. They kissed the holy relics, and then shut them up. The Bishop consented to leave a small portion of them at Caphargamala; the rest were carried in the coffin with singing of psalms and hymns, to the Church of Sion at Jerusalem. The translation was performed on the 26th of December, on which day the Church has ever since honored the memory of St. Stephen, commemorating the discovery of his relics on the 3rd of August probably on account of the dedication of some church in his honor.— Excerpted from
Butler's Lives of the Saints
Things to Do:
---
St. Lydia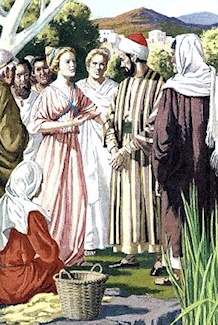 Saint Lydia was born during the first century in Thyatira, a town famous for its dye works in Asia Minor, famous for its dye works, (hence, her name which means purple seller). She was a seller of purple dye and was St. Paul's first convert at Philippi. The following is from the Acts of the Apostles:
And a certain woman named Lydia, a seller of purple, of the city of Thyatira, one that worshipped God, did hear: whose heart the Lord opened to attend to those things which were said by Paul. And when she was baptized, and her household, she besought us, saying: If you have judged me to be faithful to the Lord, come into my house, and abide there. And she constrained us (Acts 16:14-15).
She was baptized with her household. Thereafter, Paul made his home with her while in Philippi.
Lydia was a woman of hospitality, a woman of faith. As a successful businesswoman she most likely had a home spacious enough to welcome guests and to use her home as a Christian center, where others would gather for the Holy Mass and prayer. After Paul and Silas were released from prison, they went immediately to Lydia's house to see and encourage the believers gathered there. Lydia served the Lord through her gift of hospitality by welcoming others into her home.— Excerpted from
Catholic Fire
An appeal from our founder, Dr. Jeffrey Mirus:

Dear reader: If you found the information on this page helpful in your pursuit of a better Catholic life, please support our work with a donation. Your donation will help us reach seven million Truth-seeking readers worldwide this year. Thank you!


Recent Catholic Commentary
Top Catholic News
Most Important Stories of the Last 30 Days