Critical need by 8/31:   $10,000 to cover a crippling immediate shortfall.   $7,430 to go.   Please help now!
Ordinary Time: July 25th
Feast of St. James, apostle
» Enjoy our Liturgical Seasons series of e-books!
Old Calendar: St. James, apostle; St. Christopher
St. James, known as the Greater, in order to distinguish him from the other Apostle St. James, our Lord's cousin, was St. John's brother. With Peter and John he was one of the witnesses of the Transfiguration, as later he was also of the agony in the garden. He was beheaded in Jerusalem in 42 or 43 on the orders of Herod Agrippa. Since the ninth century Spain has claimed the honour of possessing his relics, though it must be said that actual proof is far less in evidence than the devotion of the faithful. The pilgrimage to St. James of Compostella in the Middle Ages attracted immense crowds; after the pilgrimage to Rome or the Holy Land, it was the most famous and the most frequented pilgrimage in Christendom. The pilgrim paths to Compostella form a network over Europe; they are dotted with pilgrims' hospices and chapels, some of which still exist. St. James is mentioned in the Roman Canon of the Mass.
According to the 1962 Missal of Bl. John XXIII the Extraordinary Form of the Roman Rite, today is also the feast of St. Christopher who suffered martyrdom in Asia Minor about the year 250. The devotion of our fathers, taking its due from his name (Christopher means bearer of Christ), caused them to place colossal statues of the saint bearing the infant Christ on his shoulders at the entrance to cathedrals. Thus arose the legend of the giant who carried the child Jesus over a river... and the devotion to St. Christopher as the patron of motorists and all forms of transport. He is one of the Fourteen Holy Helpers.
---
St. James

In Spain, he is called El Senor Santiago, the patron saint of horsemen and soldiers, and his great shrine at Santiago de Compostela in that country has been a place of pilgrimage for centuries. He is one of those that Jesus called Boanerges, "son of thunder," the brother of John the Evangelist and the son of Zebedee the fisherman from Galilee.
St. James the Greater and his brother John were apparently partners with those other two brothers, Peter and Andrew, and lived in Bethsaida, on the north shore of the Sea of Galilee. How and where James first met Jesus, we do not know; but there is an old legend that makes Salome, his mother, a sister of Mary, and if this were the case, he would have known Jesus from childhood.Along with Peter and his brother John, James was part of the inner circle of Jesus, who witnessed the Transfiguration, were witnesses to certain of His miracles, like the raising of the daughter of Jairus, and accompanied Him to the Garden of Gethsemani. Like his brother, he was active in the work of evangelization after the death of Jesus, and one legend, very unlikely, even has him going to Spain after Jesus' resurrection.His prominence and his presence in Jerusalem must have been well known, for scarcely a dozen years after the Resurrection, he became involved in the political maneuverings of the day and was arrested and executed by King Herod Agrippa. This was followed by the arrest of Peter also, so his death must have been part of a purge of Christian leaders by Agrippa, who saw the new Christian movement as a threat to Judaism.Jesus had foretold this kind of fate when He prophesied that James and his brother John would "drink of the same chalice" of suffering as Himself. The two brothers had asked to be seated at the right of Jesus and at His left in His kingdom, and Jesus told them that they would be with Him in a far different way than they expected.James's death is the only biblical record we have of the death of one of the Apostles, and he was the first of that chosen band to give his life for his Master.Excerpted from
The One Year Book of Saints
by Rev. Clifford Stevens
Patron:
Against arthritis; against rheumatism; Antigua, Guatemala; apothecaries; blacksmiths; Chile; Compostela, Spain; druggists; equestrians; furriers; Galicia, Spain; Guatemala; horsemen; knights; laborers; Medjugorje, Bosnia-Herzegovina; Nicaragua; pharmacists; pilgrims; Pistoia, Italy; rheumatoid sufferers; riders; soldiers; Spain; Spanish conquistadors; tanners; veterinarians.
Symbols:
Cockle shell; dark-bearded man holding a book; dark-bearded man holding a scroll; dark-bearded man holding a sword; dark-bearded man with a floppy pilgrim's hat, long staff, water bottle, and scallop shell; elderly, bearded man wearing a hat with a scallop shell; key; man with shells around him; mounted on horseback, trampling a Moor; pilgrim with wallet and staff; pilgrim's hat; pilgrim's staff; scallop shell; sword.
Things to Do:
---
St. Christopher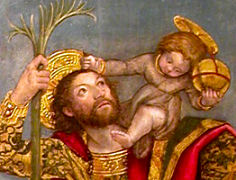 St. Christopher, one of the "Fourteen Sainted Helpers," has been highly venerated since ancient times in both the Eastern and Western Churches. The older martyrologies say that he suffered death for Christ; in more recent centuries piety has woven garlands of legend about his name. Christopher has become a giant who wished to enter the service of the most powerful of lords. He first thought that the emperor qualified; later he selected the devil, and finally he discovered Christ to be the most powerful Sovereign over all the world. From then on he served Him with greatest fidelity.
Because Christopher was of giant stature, he practiced charity by carrying pilgrims across a certain river. Once a child asked to be taken across. He complied as usual. While carrying the child on his shoulders through the river, it became heavier and heavier, and finally he could hardly support it. Then the revelation was made: "You are carrying the Lord of the world!" It was Christ (Christopher means "Christ-carrier").The legend has the nature of a symbol. Bishop Vida gives the following exposition: "Because you, O Christopher, always carried Christ in your heart, the artists place Christ on your shoulders. Because you suffered much, they paint you standing deep in the waters. And because you could not accomplish this without being large of stature, they have made you a giant, bigger than great temples; therefore do you live under the open heavens during the greatest cold. And since you conquered all that is difficult, they have given you a blossoming palm as traveling staff."Excerpted from
The Church's Year of Grace
, Pius Parsch
Patron:
Archers; automobile drivers; automobilists; bachelors; boatmen; bus drivers;, cab drivers; floods; fruit dealers; fullers; hailstorms; holy death; lorry drivers; mariners; market carriers; motorists; porters; Rab, Croatia; sailors; storms; sudden death; taxi drivers; toothache; transportation; transportation workers; travellers; truck drivers; truckers; watermen.
Symbols:
Giant; torrent; tree; man with Christ on his shoulders.
Things to Do:
An appeal from our founder, Dr. Jeffrey Mirus:

Dear reader: If you found the information on this page helpful in your pursuit of a better Catholic life, please support our work with a donation. Your donation will help us reach seven million Truth-seeking readers worldwide this year. Thank you!

Our Spring Challenge Grant




Progress toward our Spring Challenge Grant goal ($17,744 to go):


Recent Catholic Commentary
Top Catholic News
Most Important Stories of the Last 30 Days