We are underfunded by over 50% this month. $16,441 short—a serious deficit. Your support needed NOW!
Lent: February 19th
Tuesday of the First Week of Lent
» Enjoy our Liturgical Seasons series of e-books!
Old Calendar: St. Conrad of Piacenza (Hist), St. Gabinus (Hist) ; Other Titles: President's Day
Historically today is the feast of St. Conrad of Piacenza, a friar and hermit celebrated for piety and miraculous cures at Noto in Sicily and St. Gabinus, brother of Pope St. Caius, father of St. Susanna, who was ordained in his old age.
Stational Church
---
St. Conrad of Piacenza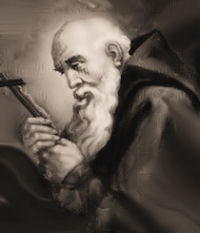 St. Conrad was a Franciscan tertiary and hermit. He was a noble, born at Piacenza, Italy. While hunting, Conrad made a fire that quickly engulfed a neighboring cornfield. A poor man was arrested as an arsonist and condemned to death, but Conrad stepped forward to admit his guilt in the matter. As a result, he had to sell his possessions to pay for the damages. Conrad and his wife decided to enter the religious life. She became a Poor Clare, and he entered the Franciscan Third Order as a hermit. Conrad went to Noto, on Sicily, where he lived the next three decades at St. Martin's Hospital and in a hermitage built by a wealthy friend. During his last years, he lived and prayed in the grotto of Pizzone outside of Noto. His cult was approved by Pope Paul III.
Excerpted from
Our Sunday Visitor's Encyclopedia of Saints
---
St. Gabinus
St. Gabinus was the father of St. Susanna. In the Spring of 293 AD, Diocletian announced the engagement of Maxentius Galerius to Susanna. Susanna refused the marriage proposal. Her father Gabinus and her uncle Caius supported this decision and encouraged her to keep her commitment to Christ. Her non-Christian uncles, Claudius and Maximus tried to persuade Susanna to marry Maxentius, after all this would make her Empress one day. In a conversation between the four brothers, Claudius and Maximus were converted to Christianity. The General Maxentius then came to the house, believing he could persuade Susanna to marry him. Susanna's refusal soon led to the suspicion that she and other members of her family might be Christians. The Roman Consul Macedonius then called Susanna to Roman Forum and asked her to prove her loyalty to the state by performing an act of worship before the God Jupiter. She refused, confirming the fact that both she and other members of her family might well be Christian, There was no attempt to arrest her however, as she was a member of the Emperor's family.
Susanna refused the marriage proposal, not only because she was a Christian but in addition, she had taken a vow of virginity. When Diocletian on the eastern frontier learned of his cousin's refusal and the reasons why, he was deeply angered, and ordered her execution. A cohort of soldiers arrived at the house and beheaded her. Her father Gabinus was arrested and starved to death in prison. Maximus and Claudius, together with Claudius's wife Prepedigna and their children, Alexander and Cuzia are all martyred. Ironically the only survivor was Pope Caius, who had escaped and hid in the catacombs. These murders within Diocletian's own family would foreshadow the last great persecution against the Christian church which the Emperor began in 303 AD. Diocletian's daughter Valeria was divorced, and in June 293 AD married Maxentius who would succeed Diocletian in 305 AD.In the year 330 AD, a basilica was built over the site of the house of Susanna. It was first named San Caius in honor of the pope who had lived here. The bodies of Susanna and Gabinus were brought back from the catacombs and buried in the church. Excerpted from
The Church of Santa Susanna
---

Today's station is at St. George's or San Giorgio in Velabro. Pope St. Gregory established a diaconia, an institution that cared for the poor, at the site of this church. The area has a special place in the history of Rome, as an ancient tradition claims that it was here that Romulus killed his brother Remus before founding the city.

An appeal from our founder, Dr. Jeffrey Mirus:

Dear reader: If you found the information on this page helpful in your pursuit of a better Catholic life, please support our work with a donation. Your donation will help us reach seven million Truth-seeking readers worldwide this year. Thank you!

Progress toward our January expenses ($16,441 to go):


Recent Catholic Commentary
Top Catholic News
Most Important Stories of the Last 30 Days