Advent: November 27th
First Sunday of Advent
» Enjoy our Liturgical Seasons series of e-books!
Old Calendar: First Sunday of Advent
Today the Church celebrates the First Sunday of Advent. This is the beginning of a new liturgical year. The Advent liturgy opens with that great yearning cry of the prophets of Israel to the Messiah and Redeemer whose advent they awaited. "Come!" God is not deaf to His people's cry. Fulfilling the promise of salvation made to our first parents at their fall He sent His Son into the world. And the application to all generations of mankind of the redemption that the Son of God made Man obtained for us by His passion continues until the end of time: it will conclude with the end of the world when the Messiah comes to complete His work and lead us into His kingdom. The history of the Church occupies the period between these two great events.
In the Mass of this Sunday the whole work of redemption is set before us, from its preparation in Israel's expectancy and its effect on our present lives down to its final fulfillment. The Church, in preparing us to celebrate at Christmas the birth of Him who came to snatch our souls from sin and transform them into the likeness of His own, invokes upon us and on all men the complete accomplishment of the mission of salvation that He came to perform upon this earth. On the First Sunday of Advent, the traditional opening prayer (or Collect) prayed: "Stir up Thy might, we beg Thee, and come." With this request to God to "stir up" His might, this day was traditionally called
Stir-Up Sunday
. Many families create a traditional plum pudding or fruit cake or some other recipe that all the family and guests can "stir-up." This activity of stirring-up the ingredients symbolizes our hearts that must be stirred in preparation for Christ's birth.
Click here for commentary on the readings in the Extraordinary Form of the Roman Rite.

Jesse Tree ~ Creation
---
In those days before the Flood, people were eating and drinking (...). Stay awake, be alert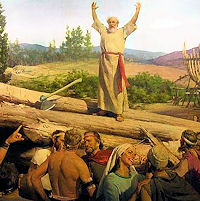 Today, in this Sunday, when we are just entering the time of Advent, we are also starting a new liturgical year. We can use this status as an invitation to refurbish some aspects of our life (spiritual, family, etc.).
In fact, we need to live our life, day by day, with a new rhythm and hopes. Thus, we can move the danger of routine and boredom further away. This feeling of permanent renewal is the best way to be alert. Yes, we must be on the alert! It is one of our Lord's messages that He transmits in the words of today's Gospel.In the first place, we need to be alert because the reason of our mortal life is the preparation for eternal life. This time of preparation is a gift and a grace from God: He does not want to impose upon us neither his love nor heaven; He wants us free (which is the only way to love). A preparation that we do not know when will it end: «We announce Christ's advent, and not only one, but also another one, the second one (...), because this present world must eventually terminate» (St. Cyril of Jerusalem). We must, therefore, struggle to keep a hopeful attitude of renewal.In the second place, we must be alert because routine and adjustment are not really congenial with love. In today's Gospel the Lord reminds us how in the time of Noah «people were eating and drinking» and «Yet they did not know what would happen until the flood came and swept them away» (Mt 24:38-39). They were "busy in other things" and—we have already said it—our time here must be a time of "betrothal" for our freedom to ripen: the gift that has been granted to us not to get rid of the others, but for our deliverance to the others."As it was in the days of Noah, so it will be at the coming of the Son of Man" (Mt 24:37). The coming of God is the great event. Let us prepare to welcome him with devotion: "Lord Jesus, Come!"Excerpted from
Contemplating today's Gospel
, Fr. Antoni CAROL i Hostench (Sant Cugat del Vallès, Barcelona, Spain)
---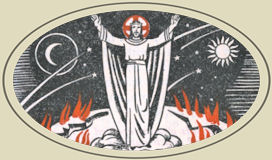 Commentary for the Readings in the Extraordinary Form:
First Sunday of Advent
"There will be signs in the . . .(heavens). . .and upon the earth, distress of nations. . .they will see the Son of Man coming. . .lift up your heads, because your redemption is at hand" (Gospel).
On His second Advent at the end of the world Jesus will come in the fullness of Divine Power. Then will we be obliged to accept Him as King of Justice. So today let us begin to prepare for this year's anniversary of His first Advent as King of Mercy.Because His coming is "nearer" we are warned to "rise from sleep,. . .lay aside the works of darkness. . .and put on he Lord Jesus Christ" (Epistle).Aware of the dangers ahead during this preparation, we call upon His "power" to protect us (Prayer) and to "cleanse us" (Secret). Finally, we promise to "prepare with due reverence for the coming festival" (Postcommunion).Excerpted from
My Sunday Missal
, Confraternity of the Precious Blood
An appeal from our founder, Dr. Jeffrey Mirus:

Dear reader: If you found the information on this page helpful in your pursuit of a better Catholic life, please support our work with a donation. Your donation will help us reach seven million Truth-seeking readers worldwide this year. Thank you!


Recent Catholic Commentary
Top Catholic News
Most Important Stories of the Last 30 Days