We have $162,320 to go in our Fall Campaign. Every penny is used to strengthen the Church. See details!
Sudan: Country of Terrorism, Religious Persecution, Slavery, Rape, Genocide, and Man-Made Starvation
by Most Reverend Macram Max Gassis
My beloved people of the Nuba Mountains, and Kauda in particular, I greet you in the Lord Jesus Christ, who is our consolation in our tribulation, grief, and suffering.
Dearly beloved, the bombing of our Catholic school and the murder of our children is an outrage against God and humanity. I am deeply grieved, as are our friends here in the United States, where I sojourn in order to bring our plight-- the unjust persecution that is inflicted upon us-- to the attention of the world community.
Time and again, I have told the world that the National Islamic Front in Khartoum is waging genocide against the Christians, Africans and non-Arabs in order to establish a radical Islamic state. This terrible, heart-breaking incident is yet another example that this war is a religious and ethnic war launched by the regime of Khartoum and aimed at the destruction of my people. We cannot bring back our 21 children, murdered in Kauda by the regime. Today there are many Rachels in Kauda, mourning the loss of their children. But we must insist that the international community act before it is too late.
I have appealed to the churches, particularly those in the United States, to pray for us, to entreat God to grant us peace and justice. And I assure you of this-- in many churches in the United States, our brothers in Christ-- Catholics and Protestants-- are praying for us.
I have taken our petition to the government of the United States. President Clinton issued a strong condemnation of the bombing. Secretary of State, Madeline Albright, with whom I met for over one hour, continues to condemn the actions of the regime against the innocent people of Sudan, and against you in particular. Let us pray that they will take resolute action to stop aerial bombardment in the future.
Beloved, know that I did my utmost to tell the world of your plight through the radio and television. I did not allow even one opportunity to escape me. I hope you heard my interview that the BBC, which was broadcast around the world and into the bush.
My children, never forget that God is with us. God hates injustice. God loves all his children, especially the innocent young. God is grieving for the barbaric attack upon you. Turn to him, and seek comfort in his loving embrace. I wish to thank the German Emergency Doctors who helped the wounded. They are a great gift to us. As a sign of love and solidarity, our friends from Sudan Relief & Rescue, our foundation in America, are visiting you to bring consolation and assistance. When they return to the United States, they will be your advocates. They will write and speak, and show the photographs of this latest atrocity against you. They are also God's gift to you. Pray for them.
Remember that our young children and their teacher are the victims of hate, injustice, intolerance, and violence. These are the same things that killed Jesus. But through Jesus' sacrifice, we have been redeemed, we have been promised the heavenly paradise. So do not despair. After each crucifixion of those who love Jesus, there is a resurrection. And after your crucifixion in the Nuba Mountains by the bombs of the Khartoum regime, you, too, will be resurrected. God will not abandon us. God will raise us from the dead. Pray that people of good will throughout the world will awake to our tragedy and offer themselves as God's instruments to help us.
Beloved, amidst your suffering, rejoice, for Christ died for us. Our students and our teacher were martyrs to our faith. From the earliest days of the Church, it is the witness of the martyrs-- who died for Christ-- which sustained the Church. The killers in Khartoum think they have damaged us, but, as St. Paul says, God will bring good from evil. The Church will grow, your faith will deepen, and the martyred children will channel untold grace to us from our Father in Heaven.
It is natural that we mourn the assassination of our innocent children. Jesus himself mourned the death of his friend, Lazarus. But we should mourn with hope and trust in Jesus. Our martyred children are NOT dead. They are alive in heaven with Christ and all the saints. They have joined our Blessed Bakhita and the Servant of God, Marie Giuseppina Benvenuti, before the throne of God to advocate for us. In the words of the entrance song of the mass of the Holy Innocents, I say to you with every confidence: "These innocent children were slain for Christ. They follow the spotless Lamb and proclaim forever: Glory to you, God."
My suffering people, remember the words of our Lord and Savior, Jesus Christ, Son of God, in the Gospel of St. Matthew: "Happy are those who mourn: they shall be comforted. Happy are those who hunger and thirst after righteousness: they shall be satisfied. Happy are those who are persecuted: theirs is the Kingdom of Heaven. Happy are you when men abuse you and persecute you and speak all manner of evil against you on my account. Rejoice and be glad, for your reward is great in Heaven."
Beloved, we must suffer in the present time But our suffering will be united with Christ's on the cross, and we will offer it to God. As the prayer of the Holy Innocents says: "Father, the Holy Innocents offered you praise by the death they suffered for Christ. May our lives bear witness to the faith we profess with our lips."
Rest assured that you are in my heart, and constantly in my prayers. I love you, and I long to be with you. Receive our American friends as my ambassadors. They bring you my love and concern, and the prayers of our friends around the world. I send you my blessing. Console and strengthen one another, particularly the families of the slain. Have faith in God. I will be with you soon.
Macram Max Gassis Bishop of El Obeid, Sudan
Please send donations to:
Bishop Gassis Sudan Relief Fund P.O. Box 7313 Falls Church, VA 22040-7313 Toll-Free: 1-888-488-0348 Email: [email protected]
This item 5067 digitally provided courtesy of CatholicCulture.org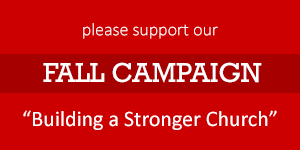 Recent Catholic Commentary
Top Catholic News
Most Important Stories of the Last 30 Days