We have $163,080 to go in our Fall Campaign. Every penny is used to strengthen the Church. See details!
dream girl
By Diogenes (bio - articles ) | Aug 29, 2007
"Lesbian Could Head Episcopal Diocese" blares the headline of a Chicago Sun-Times story about the nomination of the Rev. Tracey Lind as a "finalist" -- a curious expression -- for bishop of the Episcopal Diocese of Chicago. She's found within herself the courage to go forward:
"I believe that accepting this nomination is what God is asking of me," Lind said in a statement. She's dean of Trinity Cathedral in Cleveland and author of Interrupted by God.
How quickly identity politics has changed. Twenty-five years ago politically enlightened persons were instructed to ignore a candidate's homosexual libido as irrelevant to the task-oriented skills pertinent to fulfilling a particular role. Fifteen years ago it was permitted (and sometimes cautiously encouraged) to make reference to someone's homosexual orientation provided one made the obligatory verbal curtsey insisting a gay orientation did not entail homosexual activity; well brought-up individuals had to pretend that gays lived like Emily Dickinson, in pensive and abstract isolation from the objects of desire. Today that pretense has been replaced by an etiquette of moral mendacity: the enlightened acknowledge that, yes, gays may be "partnered," but one must make-believe the partership is monogamous and decorous and morally unproblematic.
Accordingly, in her nominee's statement on the Bishop for Chicago website, the Rev. Tracey tells us nothing about her christology or ecclesiology or take on the 39 Articles, but she goes out of her way to let us know her Emily is emphatically un-Dickinson:
My life with my partner, Emily Ingalls (a cradle Episcopalian), is the gift that most sustains me. Together, we tend our garden, travel, hike, bicycle, enjoy the arts, and spend time with family and friends. And I like to fly fish, run, read, write and look for God in silence though the third eye of my camera.
Why is it important that Tracey's partner be identified as "a cradle Episcopalian"? Is this supposed to reassure the more conservative skeptics with the picture of a demure vicar's wife in white muslin who knows how to pour tea and has a polite horror of Rome? Or is Emily to be viewed as another one of Tracey's wholesome hobbies, on a par with hiking and gardening and looking for God in silence? In any case, you have Tracey's permission to not-think-of-Mardi-Gras, and hey, isn't that what spiritual leadership is all about?
The Bishop for Chicago site also includes a Bishop Search Prayer that deals graces off the bottom of the deck. An excerpt:
Give to our search committee inquiring and discerning hearts, that they may clearly see your will. Give us all the courage to dream and the will to persevere to make those dreams a reality. Fill us with your Holy Spirit and ground us in the knowledge and love of you. Empower us with the gifts of joy and wonder as we seek out the special ministry you have for us together in our diocese; through Jesus Christ our Lord.
"Give us the courage to dream ..." Methinks anyone who offers that particular prayer has all his dreams quite in order, thank you very much, and is not so much beseeching the Lord for a favor as obliquely chiding his more cautious brethren to accept the progressive vision of the future as God's will. I mean, suppose for the sake of argument God gave you the "courage" to dream that the Church should return in every respect to the way it was in 1957 -- would you have the courage to end your career by saying it?
An appeal from our founder, Dr. Jeffrey Mirus:

Dear reader: If you found the information on this page helpful in your pursuit of a better Catholic life, please support our work with a donation. Your donation will help us reach seven million Truth-seeking readers worldwide this year. Thank you!

Our Fall Campaign




Progress toward our year-end goal ($163,080 to go):
Sound Off!
CatholicCulture.org supporters weigh in.
All comments are moderated. To lighten our editing burden, only current donors are allowed to Sound Off. If you are a donor, log in to see the comment form; otherwise please support our work, and Sound Off!
Posted by: - Aug. 30, 2007 8:04 PM ET USA

It sounds better in Latin: Fortitudo somniare da nobis.

Posted by: - Aug. 30, 2007 12:40 PM ET USA

Uncle Di makes a vital point when he writes that we are supposed to presume that this "relationship" is monogamous. Since we are talking about lesbians, there is a chance that it might be, but if it were two men, it almost certainly would not be. One of the most important ingrediants in the success of the homosexual lobby is the willful ignorance of their straight fellow travellers about the reality of their sordid lives.

Posted by: - Aug. 30, 2007 12:18 PM ET USA

It's the "it's about me" mentality, which rings loud and clear from her and even from many of our own bishops, that sickens me the most. It's near the base of why they are who they are to begin with. ".. my kingdom come, my will be done ..."

Posted by: - Aug. 29, 2007 10:03 PM ET USA

"Give us the courage to dream"? That's right up there with "give us the courage to enter the song." Contrary to what some of us may have been told, there can be "stupid" prayers.

Posted by: - Aug. 29, 2007 9:05 PM ET USA

... when reading these stories one gets the impression that Anglicanism is a religion in which grown-ups play-act the idea of the Church.

Posted by: - Aug. 29, 2007 5:46 PM ET USA

"My life with my partner"...[will be one where]..."we tend our garden, travel, hike, bicycle, enjoy the arts, and spend time with family and friends. And I like to fly fish, run, read, write and look for God in silence though the third eye of my camera." If her Grace, Tracey Lind, doesn't get the job--dare one call it anything else now--she can make some pin money composing singles ads. I had no idea that ecclesiastical sin was a sweet, sickening and sticky as an overflow of pancake syrup.

Posted by: - Aug. 29, 2007 5:30 PM ET USA

Protestantism started worshiping the Bible, which became the very foundation of it. But the very spirit of the Protestant culture was responsible for the destruction of its own foundation: from blind worship it fell to doubting almost everything that the Bible contained. Protestantism is now but a mass of ruins, of which this incident is an example. Let us pray Benedict XVI is able to counter the Modernist heresy on the Catholic side, and remove the self-destruct instinct posed by Vatican II.

Posted by: - Aug. 29, 2007 3:23 PM ET USA

Just another example of creating God in our own image.

Posted by: - Aug. 29, 2007 2:35 PM ET USA

The prayer sounds like it was written by a fan of that Don Quixote musical, but with less ability to turn a phrase. More like a Haugan Haas selection.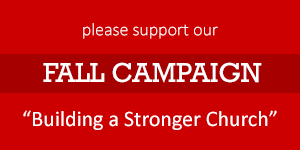 Recent Catholic Commentary
Top Catholic News
Most Important Stories of the Last 30 Days