We have $161,839 to go in our Fall Campaign. Every penny is used to strengthen the Church. See details!
help is on the way
By Diogenes (bio - articles ) | Jul 30, 2007
Richard Sklba, auxiliary Bishop of Milwaukee, indulges in some ominous knuckle-cracking so as to prep the archdiocese for more widespread employment of the creature variously termed the "parish director," "parish life coordinator," and "lay pastoral minister": an innovation which -- like the martial law imposed by Soviets on their puppet republics -- he would have us believe is a regrettably necessary expedient and at the same time a happy augury of the future. Sklba's smiling prose assures us, repeatedly, we WILL like our medicine (from the July 12 Milwaukee Catholic Herald):
Listening to the experience of people across the nation, it is clearly important that such an appointment be made officially and formally by the bishop, and that adequate preparation be given to the parish community which will be receiving the team of parish director and assisting priest.
Officially ... formally ... "adequate" preparation. D'you get the sense contrary voices from the pews are likely to get a welcome and judicious hearing?
An opportunity for the parish council to speak with people actually involved in this model seems important to clarify any misconceptions, even before its formal inception, and an official installation by the bishop at one of the weekend parish Masses is necessary for people to appreciate the official character of this model of pastoral care.
"To clarify any misconceptions ..." The misconceptions here referred to are clearly limited to the parishioners, and the "official character" of the "official installation" leaves no doubt that this gift is not the sort that can be returned to sender.
These recommendations have been part of our own practice in Milwaukee from the very beginning. The importance of preaching in the pastoral shaping of a parish community is a given for anyone who has ever filled that role. This poses challenges, given our present liturgical laws.
Notice the little zinger in the last line? The "present liturgical laws" the bishop refers to is, in reality, Canon 767, by which the homily is reserved to a priest or a deacon, which in turn reflects an unbroken Catholic practice with theological roots in Romans 10 ("How shall men believe him, of whom they have not heard? And how shall they hear, without a preacher? And how shall they preach unless they be sent?" vv 14f). Clearly Sklba feels the "challenges" posed by the doctrine of Holy Orders can be overcome with a little pastoral creativity.
It has become clear to me that parishioners must appreciate the full pastoral authority of a parish director, and that a good match between parish director and assisting priest be established from the beginning. Finding mutually respectful team members can be a challenge.
What is the force of Slkba's "must" in the first line above? Are we to read it as part of an implied conditional hinging on the qualities of the director ("If this scheme is to succeed, the director must be worthy of the respect appropriate to one in authority")? Or is it, more likely, a diktat underscoring the faithful's lack of choice in the matter: You parishioners need to get it through your skulls that the lay director will be planted on you just as an ordained pastor is, and -- get used to it -- your opinion before and after the fact counts for zip.
When they were first dreamed up by woozy ecumenists in the years of the Second Vatican Council, lay pastoral ministers were (in Jerry Fodor's phrase) "a cure for which there is no adequate disease." We have the post-Conciliar liberal episcopacy to thank for working unremittingly to introduce the desired illness: they managed to empty the seminaries with a swiftness no persecution could rival. And finally, having presented us with the disease, they gleefully produce the medicine.
Now get that look off your face, and Open Wide.
An appeal from our founder, Dr. Jeffrey Mirus:

Dear reader: If you found the information on this page helpful in your pursuit of a better Catholic life, please support our work with a donation. Your donation will help us reach seven million Truth-seeking readers worldwide this year. Thank you!

Our Fall Campaign




Progress toward our year-end goal ($161,839 to go):
Sound Off!
CatholicCulture.org supporters weigh in.
All comments are moderated. To lighten our editing burden, only current donors are allowed to Sound Off. If you are a donor, log in to see the comment form; otherwise please support our work, and Sound Off!
Posted by: - Aug. 05, 2007 4:55 PM ET USA

If a non-priest gives a sermon in your parish the simple remedy might be to get up and walk out. That protest would draw attention that the format set for a Catholic liturgy is NOT being followed. It has become irregular--leave.

Posted by: - Aug. 04, 2007 10:40 AM ET USA

Puleeze, Ladybird. Anonymity and humility are not necessarily related. We were Protestants for decades and enjoyed being part of a parish family, where people knew each other and cared. The pastor knew us and visited our home. We talked about and shared the faith. If most Catholics have always been anonymous, and their parish totally impersonal, they have missed much of the joy of being a Christian.

Posted by: - Aug. 02, 2007 1:52 PM ET USA

Puhleese! aberlour36, why do you want your priest to know you? Surely his job is not to know You but to lead you to know Our Lord! Our parents/grandparents were anonymous members of huge parishes of multi-lingual immigrants & native-born alike. Their priests only came to know them when they called on him for help! They didn't need a mention in the Bulletin (or applause at Mass!) every time they gave "time, talent, treasure"! A little humble anonymity is exactly what we could use alot more of!

Posted by: - Aug. 01, 2007 8:42 PM ET USA

I've been a member of various parishes in the Milwaukee Archdiocese over the years. The last one I left was specifically because of the "Pastoral Associate" (yes that is what it is called). The woman took a 6 week course at the local Seminary (St. Francis in Hales Corners, WI) and now parades around wearing black pants and shirt. Yes a real pseudo wannabe priest. The end for me came when she gave the Homily one Sunday dressed in a shawl like garment obviously a pseudo vestment. Ora Pro Nobis!

Posted by: - Aug. 01, 2007 7:27 PM ET USA

Dear God, Skilba, Schmilba. Listen, can't You do something about the mess Your Church is in? We're all down here trying to make the heretics (Your Bishops!) SEE, but they refuse to want to acknowledge You as anything but a leftist liberal liturgical danseur in pink ballerina slippers. They take our money, sell our parishes, abuse our children, and lead us (Your sheep) to Hell. Meanwhile, where's the Old Testament You? You know... The God of Justice & Wrath. Love, just me

Posted by: - Aug. 01, 2007 1:45 PM ET USA

The stark truth is that something has to be done about the clergy shortage, and quickly. Here in the Archdiocese of Milwaukee one may attend a parish for decades in anonymity. The priest is too busy, and no one else seems to care. Our 61 year old parish priest heads two large congregations. He could use some help from the laity. As it is, at least where we are, the people just file in and out every week. Alas. Don't blame Sklba, however inarticulate he may be.

Posted by: - Aug. 01, 2007 12:31 PM ET USA

R. Spanier (Canadian Catholic) picked up on what jumped out at me, too! "assisting priest"! I thought "assisting" might be a verb defining the job of the lay parish director - but careful reading shows it is in fact an adjective defining the role of the parish priest! He (the priest) is "assisting" the parish director! WHAT!? That can't be what His Excellency is meaning, can it?!

Posted by: - Aug. 01, 2007 12:40 AM ET USA

The above quotes aren't to be found on the Milwaukee Catholic Herald site. Giving "full pastoral authority to a parish director, and… 'assisting' priest" is against Church law: "If, because of a shortage of priests, the diocesan Bishop has judged that a deacon, or some other person who is not a priest… should be entrusted with a share… of the pastoral care of a parish, he is to appoint some priest who, with the powers and faculties of a parish priest, will direct the pastoral care." (CCL 517.2)

Posted by: - Jul. 31, 2007 9:27 PM ET USA

One more reason to enact Canon 401-dash-2, as it states that a bishop may retire for health or some other serious reason. With Bp. Sklba, the reason is serious as he continues to confuse & mislead the people. I am a diocesan priest & designated, not "installed," as an administrator of a parish. Pastors (read: priests), not laypersons, are "installed" in a parish by the bishop. Bp. Sklba, like Bp. Gumbleton et al, has "I-am-the-Church" disease. The cure: retirement & a life of penance & prayer.

Posted by: - Jul. 31, 2007 2:01 PM ET USA

It's insane. The whole point of it is that our opinion is supposed to matter when, in fact, it doesn't and shouldn't. Yet, this will happen and only dissenting opinions will not matter. God bless Jerry Fodor.

Posted by: - Jul. 31, 2007 1:35 PM ET USA

Catholicity, they are already doing that. When you attend Sunday Mass,you can tell the people are not coming. Even in the "larger" parishes it is not what it should be. And Clorox, you understand the problem correctly. It is Archbishop Sklba and Bishop Dolan, who is really the auxiliary, when he is here. He is perpetually absent from the diocese. Sklba and the rest of the Weakland cronies who are running things,have based their careers on lies,cover-ups, pay offs and a many other sins.

Posted by: - Jul. 31, 2007 1:07 PM ET USA

What are they going to do when they install the "lay pastoral teams" and people start staying away in droves?

Posted by: - Jul. 31, 2007 10:23 AM ET USA

>> they managed to empty the seminaries with a swiftness no >> persecution could rival. And finally, having presented us >> with the disease, they gleefully produce the medicine. So true... So sad... Uncle Di, give us a holiday from truthfulness about the Church. Post an article on something harmless, like baseball or something.

Posted by: - Jul. 30, 2007 11:21 PM ET USA

What is a parish council? HAHA! We don't have one of those. We have strong, hardworking priests who love Jesus Christ!

Posted by: - Jul. 30, 2007 9:57 PM ET USA

I bet Bishop Dolan really resents Archbishop Sklba's official decrees. But what can Dolan do as a mere auxiliary?

Posted by: - Jul. 30, 2007 7:54 PM ET USA

I have a hard time generating sympathy for the so called priest shortage in the USA. We have 24,000 in our parish and we take care of two chapels with another 20,or 30 thousands baptized Catholics. In each chapel there is someone who has the key, there are several extraordinary ministers, catechists, and various members of church groups who take care of daily business. On a normal Sunday in Latin America the average priest celebrates between 3 and 5 masses plus another 3 to 7 hours of confession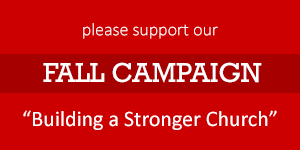 Recent Catholic Commentary
Top Catholic News
Most Important Stories of the Last 30 Days