We have $161,449 to go in our Fall Campaign. Every penny is used to strengthen the Church. See details!
the non-vindictive Gospel
By Diogenes (bio - articles ) | Apr 21, 2006
Cardinal Sean O'Malley tells the Boston Globe about his goals as the primary voice of Catholic teaching in a society once dominated by Catholicism:
We're hoping that people will come to understand that the Church's teachings are not vindictive or mean-spirited.
A modest ambition, that. A more ambitious preacher might seek to convince his public that the teachings of the Church represent the immutable Word of God, the sole reliable means of ensuring man's happiness and salvation. But sometimes it isn't easy to get that message across.
Take, for example, the recent unpleasantness over same-sex adoptions. Cardinal O'Malley told the Globe that before deciding to drop adoption services, the archdiocese considered a legislative or legal battle, but also "how contentious it would have been to fight this." In conclusion, "we thought it would only cause greater divisions, more controversy, and in the long run, would only cripple the mission of what we're trying to do."
And "what we're trying to do" is?
Oh, right. That "vindictive or mean-spirited" thing again. Can't have that.
An appeal from our founder, Dr. Jeffrey Mirus:

Dear reader: If you found the information on this page helpful in your pursuit of a better Catholic life, please support our work with a donation. Your donation will help us reach seven million Truth-seeking readers worldwide this year. Thank you!

Our Fall Campaign




Progress toward our year-end goal ($161,449 to go):
Sound Off!
CatholicCulture.org supporters weigh in.
All comments are moderated. To lighten our editing burden, only current donors are allowed to Sound Off. If you are a donor, log in to see the comment form; otherwise please support our work, and Sound Off!
Posted by: Fr. William - Apr. 26, 2006 12:25 AM ET USA

Yes, Pseudodionysius, but from what we can see Cardinal O'Malley doing to date, as objectively as possible, it looks as though he's not even squaring up to bunt, but is actually looking for a walk when he's at the plate, for a base-on-balls, as we say. The Church requires these men to be willing to be martyrs for the Faith (the red in a cardinal's hat/vesture communicate that readiness), as was the case for Saint Mark & most of the apostles. RPP: one can attract more flies with dung.

Posted by: Fiducia - Apr. 25, 2006 9:22 AM ET USA

It was discouraging to see O'Malley receive the red while Chaput and Burke were passed over. We need leadership more than diplomacy. The faithful are not listened to as much as the opposition voices.

Posted by: Eleazar - Apr. 24, 2006 12:36 PM ET USA

Unfortunately, "vindictive, mean-spirited," etc. are used by people who cannot mount any better argument. If I can prove logically that someone's position or behavior are wrong, name-calling becomes their only recourse. While certainly expedient, the Church ultimately fails in its calling to Evangelization when her bishops merely pick up their marbles and retire to their chanceries when confronted by the evils of the modern world.

Posted by: rpp - Apr. 24, 2006 11:27 AM ET USA

While I would have liked to see the Church fight this one, I can see Cardinal O'Malley's point; the more-flies-with-honey approach. Not to mention the financiual burden which is difficult to ignore. At least he halted the adoptions. Perhaps he is hoping that people will come to see how much work Catholic Charities did in this area and may change their minds later. I think that is naive, but naitvete is often the hallmark of American bishops. D., I think you may be reaching a bit far here.

Posted by: Pseudodionysius - Apr. 24, 2006 9:48 AM ET USA

The Cardinal seems to be doing a lot of bunting, instead of going for base hits. It would be nice to not have to leave the DH role to the Pope all of the time.

Posted by: - Apr. 24, 2006 9:20 AM ET USA

The conflict in the minds of the bishops appears to be between: the urge to "run, run, run away, live to fight another day"; and the (rare?) "stand and fight" attitude (as if there are real souls at stake--if you believe in that quaint concept). I think that Diogenes may think that the church is in need of the more pugilistic strategery.

Posted by: - Apr. 23, 2006 12:47 AM ET USA

Bully for Cardinal Sean -- the MSM, and a host of other cultural influences have indeed convinced many fallen away Catholics that Church teachings are "mean spirited and vindictive," and no one in Boston need be told that those who run the Church there showed vindictiveness toward anyone who deigned to think pervert priests ought to be brought to justice. For the Cdl to attempt to proclaim the truth in any but the humblest of terms would be what it is in Boston: laughable and hypocritical.

Posted by: Andy K - Apr. 22, 2006 9:23 PM ET USA

Dear Diogenes, It seems many disagree with you. I do too. The Church's teachings are based on Love, which can never be mean-spirited or vindictive. Those of us who call ourselves Catholic, on the other hand, can be vindicitive or mean-spirited. I know I am, and I have a beam in my eye.

Posted by: - Apr. 22, 2006 10:45 AM ET USA

Canismater, Sterling, benedictusoblatus – I agree with you. The negativity and slamming of certain others seems to be habitual for some who comment here. I think the better tack has to be: Choose Your Battles. Otherwise it's all in the nature of whine, whine, whine.

Posted by: benedictusoblatus - Apr. 22, 2006 9:46 AM ET USA

I think the archbishop's comments are a level above the concerns of some bishops who can't seem to get beyond worrying about which of their priests are going to be sued for boundary violations and the like.

Posted by: Sterling - Apr. 22, 2006 8:53 AM ET USA

"Speak softly and carry a big stick." I think O'Malley handled matters brilliantly. He avoided a costly suit - he let actions speak for words! Hurray! Just shut the thing down - the big stick approach. Now, here's a total coincidence (!!!) Massachusetts has decided not to harass Catholic Charities in other dioceses. (Read: the politicians got the message.) It's not cowardly but smart to bypass "contentiousness" when your opponents' ears and minds are closed. Kudos to O'Malley.

Posted by: Canismater - Apr. 22, 2006 7:51 AM ET USA

Quadratus: Always? What Scriptures are you reading? "But all in the city rose up against him, and brought him to the top of the hill above the city to throw him off, but he walked through their midst and went away." Luke 4:29-30. "But he was silent and opened not his mouth." Matthew 20:31, Mark 14:61

Posted by: - Apr. 21, 2006 10:22 PM ET USA

'in a little town in the Midwest, where none of these things are even an issue, it's much easier to be a country pastor." Cardinal Sean, I live in a little town in the Midwest, and let me tell you that there is actually no intellectual or sexual temptation here at all. ; )

Posted by: Quadratus - Apr. 21, 2006 6:15 PM ET USA

Jesus never shrank from a controversy. He stated the truth, rebuked phrisees, chastased the merchants, blasted the hypocrite scribes (the equivalent of our moder day "scholars") and in the end was crucified by Romans, Jews, Herod an all those in power who did not like his "vindictive and meaned spirited" regard for the truth.

Posted by: Patrick461 - Apr. 21, 2006 6:14 PM ET USA

Presumably those ( more numerous than one would hope in MA) who think the Church's teachings are "vindictive or mean-spirited" will not accept those teachings as "the immutable Word of God, the sole reliable means of ensuring man's happiness and salvation." Perhaps, for these people Cardinal O'Malley's evangelical strategy simply makes good sense. By contrast, Diogenes, your approach might be as fruitless as throwing good seed on barren soil.

Posted by: Gil125 - Apr. 21, 2006 6:13 PM ET USA

Sorry, but I have to disagree with Canismater. This is another example of our bishops behaving like bureaucrats instead of successors to the Apostles. It's of a piece with Bishop Gregory's defense of the existence of the Catholic Church by saying it provided a lot of social services and community programs. (And it's obviously the right thing for them to do, because it got Gregory promoted.)

Posted by: Canismater - Apr. 21, 2006 4:32 PM ET USA

Common, Diogenes, maybe you should step out of your ivory tower and fight a little in the field, where they shoot real bullets, before you reprimand an officer for not having his boots clean in the muck and muddle of the trenches. And since when do you take a newspaper report as anything less than slanted, prepackaged, and processed? Swing and a miss on this one…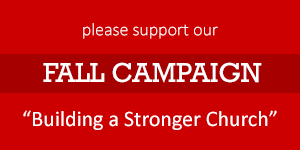 Recent Catholic Commentary
Top Catholic News
Most Important Stories of the Last 30 Days