We have $163,080 to go in our Fall Campaign. Every penny is used to strengthen the Church. See details!
the McCarrick file
By Diogenes (bio - articles ) | Mar 16, 2006
Remember the campaign season of 2004? Sure you do; it wasn't that long ago.
Remember the debate about whether a pro-abortion politician (like Kerry) should receive Communion?
Remember how a committee of bishops, chaired by Cardinal McCarrick, was preparing a document on that subject? But we were told the document probably wouldn't appear before the election.
Now 16 months have passed, and American voters are hearing the first rumblings of a new campaign season. Do you suppose we can expect the publication of the McCarrick document before this election?
An appeal from our founder, Dr. Jeffrey Mirus:

Dear reader: If you found the information on this page helpful in your pursuit of a better Catholic life, please support our work with a donation. Your donation will help us reach seven million Truth-seeking readers worldwide this year. Thank you!

Our Fall Campaign




Progress toward our year-end goal ($163,080 to go):
Sound Off!
CatholicCulture.org supporters weigh in.
All comments are moderated. To lighten our editing burden, only current donors are allowed to Sound Off. If you are a donor, log in to see the comment form; otherwise please support our work, and Sound Off!
Posted by: benedictusoblatus - Mar. 19, 2006 7:38 PM ET USA

Ross and Convert are right. It doesn't matter if priest or bishop know what is in a politician's heart. If the politician commits a grievous public sin of scandal in the performance of his office, to wit, throwing his public support and vote to support legalized abortion, he/she should be expected to perform AT LEAST a public recantation of that support before being allowed to approach the Altar for Holy Communion. Anything less and the priest or bishop would share his guilt!

Posted by: Estel - Mar. 17, 2006 9:23 AM ET USA

But if a statement stating that pro-abortion politicians are not to receive Holy Communion were to be promulgated, the politicians might refuse to dialogue with our Bishops! Remember that that dialogue is irreplaceable (more so than one's soul it seems). However, genuflect before receiving Holy Communion and then you will be sure to receive instruction from your local priest as to why you shouldn't do that (per USCCB). Form over substance is what matters for this Easter people.

Posted by: Vincit omnia amor - Mar. 16, 2006 9:09 PM ET USA

(from Transcript, "Fox News Sunday," April 11th 2004, McCarrick named "Power Player of the Week.") WALLACE: Last Sunday, Kerry took communion at a Protestant church...Kerry has arranged to attend Easter Mass today...And he says the church allows for freedom of conscience for Catholics on public issues. But Cardinal McCarrick wanted to talk about other things, especially the genocide of 800,000 people in Rwanda 10 years ago.

Posted by: Vincit omnia amor - Mar. 16, 2006 9:07 PM ET USA

(from Transcript, "Fox News Sunday," April 11th 2004, McCarrick named "Power Player of the Week.) CHRIS WALLACE: Some church officials are critical of Sen. Kerry because of his stands on abortion and stem cell research. Is that fair? MCCARRICK: It's fair that some bishops are critical of him, because each bishop makes his own decision. Certainly, I think we all would be critical of anyone who did not agree with us....

Posted by: Pseudodionysius - Mar. 16, 2006 8:46 PM ET USA

The commission is stalled waiting for the translation into Hittite.

Posted by: Gino - Mar. 16, 2006 8:18 PM ET USA

Cardinal McCarrick will be retired and the USCCB will say, "Oops we have to appoint a new Commision. This report could possibly be ready for the 2050 elections.

Posted by: Ross Dee - Mar. 16, 2006 3:05 PM ET USA

Oh yes, Cardinal McCarrick said that he does not want to refuse the man Holy Communion, because he does not know what is in the "man's heart". I find that so hard to believe, Jesus forgive me. But, when a public figure, publicly supports and votes to further the "parties cause"; of abortion, homosexuality, same sex unions, and lies about his/her opponent, you would have to be dead, not to know what is in that man's or woman's heart.

Posted by: rpp - Mar. 16, 2006 11:55 AM ET USA

The theologian, Hans Urs von Balthesar (sp?) in one of more expansive and hopeful, yet somwhat out there, works said "Dare we hope all will go to Heaven?" I ask, "Dare we hope *any* politician will go to Heaven?"

Posted by: Sir William - Mar. 16, 2006 11:25 AM ET USA

I heard that the completed document couldn't be enforced until it was translated from the Latin, that it was highly nuanced and therefore the average Catholic probably wouldn't understand it in the proper context.

Posted by: Convert1994 - Mar. 16, 2006 11:08 AM ET USA

Cardinal Ratzinger's directive to refuse Communion to pro-abortion politicians has nothing to do with politics! God loves these politicians, wrong as they may be about abortion, and to take Communion unworthily endangers their souls. St. Paul tells us he who receives Communion in a state of sin is "guilty of the Body and Blood of the Lord." Think of what this means; it is as if these people's grave sins recrucify Our Lord! Refusing Communion to such people is an act of great compassion.

Posted by: frjimc - Mar. 16, 2006 10:23 AM ET USA

Perhaps Cardinal McCarrick is waiting to release the report until after Mr. Kerry's promised release of his full service records. Or maybe both promises were "taken out of context."

Posted by: Ross Dee - Mar. 16, 2006 10:15 AM ET USA

No, we will not see any document. We already saw the document from the Doctrine of Faith. Yet, Cardinal McCarrick held back the true facts. After all, the Vatican does not understand how they are suppose to present the Faith to the Americans. The American Bishops or some committee will rewrite the document so that it will be more "palatable" for all of their "political friends". Did not Jesus say, that the King, threw the man out of the banquet, because he did not have the right garment on?

Posted by: - Mar. 16, 2006 10:11 AM ET USA

We won't see anything until Cdl. McCarrick's overdue retirement is in effect. Then as there will be no head of the Committee To Obfuscate, the matter will be tabled and the committee meetings (they did have meetings, right...?) adjourned sine die. Yep, dodged another one there boys!

Posted by: Pseudodionysius - Mar. 16, 2006 9:05 AM ET USA

It will be ready when the Third Vatican Council begins.

Posted by: Canismater - Mar. 16, 2006 7:50 AM ET USA

Let's see…there are political and legal considerations, canonical considerations, pastoral considerations, moral considerations, public relations issues, even ecclesial and episcopal communion issues. Not to mention the important duty to protect the Church's greatest treasure. Is there enough under the red berretta to properly approach this? I think we'll be waiting until the next guy, or even Rome, addresses this issue. And maybe that's good.

Posted by: - Mar. 16, 2006 7:29 AM ET USA

Uhm, I think I have a copy around here someplace. You can bet that a matter of this importance would not have been put off. ; )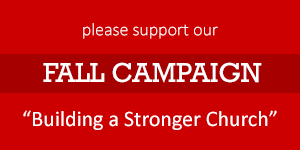 Recent Catholic Commentary
Top Catholic News
Most Important Stories of the Last 30 Days