We have $161,839 to go in our Fall Campaign. Every penny is used to strengthen the Church. See details!
Talk to a Sistah -- about protease inhibitors & Leviticus
By Diogenes (bio - articles ) | Oct 16, 2005
We are all at risk.
While you slept, your bishops have been at work coming to the rescue of your family. How? By preparing for World AIDS Day and embarking on an Advent-synchronized educational program "to raise awareness about HIV/AIDS in your parish." The postcard above -- featuring the cute cross draped with the AIDS Awareness ribbon -- has already reached your pastor's desk. We, of course, are all at risk.
As always with "AIDS awareness" campaigns, we get a morally ambiguous fan dance. The promoters can't be too explicit without provoking moral disgust at the, ahem, occasions of transmission, and the point of the campaign is precisely to anesthetize this disgust by domesticating the disease itself: no need for those hushed tones, grandma, AIDS is as common as dandruff. Hence the "awareness" turns out to be totally contentless. Our bishops' Advent Awareness Action Calendar urges us to "Talk, Talk, Talk, Talk about AIDS at the Laundromat, beauty salon/barbershop and at the Parish social." We are, of course, all at risk.
Some alert policy wonk at the USCCB discovered that the majority of female AIDS patients are black, whence the Secretariat for African American Catholics last year came up with the program theme "WOMEN CAN HELP WOMEN reduce and eliminate the spread of HIV/AIDS," and linked it to the following action agenda (we are all, of course, at risk):
Time Out/Take Out -- A mentoring program for young ladies offering a good meal and a good conversation about HIV/AIDS (audience: Sunday School, Confirmation Groups, and Youth Groups).


Ladies' Night Out -- An AIDS awareness and education program for young ladies and women. Open our parish halls for a day of pampering, nails, line-dancing, and awareness BINGO.


Prayer Changes Things -- Start a parish HIV/AIDS support group for those affected by the HIV/AIDS epidemic.


Incorporate the AIDS prayer into novenas or rosaries at family reunions and other family gatherings.


Talk to a sistah -- about HIV/AIDS.
A day of pampering, nails, line-dancing, and Awareness Bingo. I hope our Lords Spiritual will teach by example and devote a morning of their November meeting to showing us how it's done. Already I can feel my HIV/AIDS consciousness rising in anticipation of the event. At any rate, it's good to know those collection plate dollars are not being wasted on hunger relief or catechetics.
(P.S. We are all at risk.)
An appeal from our founder, Dr. Jeffrey Mirus:

Dear reader: If you found the information on this page helpful in your pursuit of a better Catholic life, please support our work with a donation. Your donation will help us reach seven million Truth-seeking readers worldwide this year. Thank you!

Our Fall Campaign




Progress toward our year-end goal ($161,839 to go):
Sound Off!
CatholicCulture.org supporters weigh in.
All comments are moderated. To lighten our editing burden, only current donors are allowed to Sound Off. If you are a donor, log in to see the comment form; otherwise please support our work, and Sound Off!
Posted by: Convert1994 - Oct. 19, 2005 4:11 PM ET USA

The cross without a corpus is also noteworthy. I resent the insinuation that "we are all at risk" for AIDS because we are not. If we are living properly as Catholics whether single, married, or ordained, we cannot get AIDS. Period.

Posted by: Vincit omnia amor - Oct. 18, 2005 3:51 PM ET USA

yes, special ops, this is not a small insignificant matter. it is a twisted and agenda driven campaign which is outrageous.

Posted by: Fr. William - Oct. 17, 2005 10:09 PM ET USA

Convert1994: Yes, the bishops use "Call to Action," the title of an anti-Church group -- just one more reason to remove (Canon 401-2) every single bishop and every USCCB staff member who worked on this "project" -- an agenda-laden ideological project that distorts the truth, misleads people, and uses the Cross of Christ to serve a "cause." Will the bishops apologize for this mess? Withdraw their support for it? Is there ONE bishop in the US who will criticize this USCCB project?

Posted by: Convert1994 - Oct. 17, 2005 4:31 PM ET USA

Anybody else notice the "Call to Action" reference?

Posted by: Fr. William - Oct. 17, 2005 12:53 PM ET USA

TXCatholic: Re-checking my poor math & getting www.CDC.gov stats, it's more like 84%. Since 1993, 749,000 cases of AIDS infection are reported due to gay sex & IV-drug use. Nearly 150,000 more cases are attributed to heterosexual sexual contact (were one of the "heterosexuals" exposed to IV-drug users or sodomy or an infected blood transfusion?). The ribbon looks rainbow to me. Still, do not use the Cross for "causes." And, yes, pray for all the sick/suffering to know Jesus' healing presence.

Posted by: - Oct. 17, 2005 12:03 PM ET USA

90% is an erroneous figure, special ops. Get your figures correct before spouting off. In addition, it is NOT a gay rights ribbon, but an AIDS awareness ribbon, like the ones for breast cancer. I do agree that nothing else should be mixed with the cross.

Posted by: Sir William - Oct. 17, 2005 11:21 AM ET USA

"While you slept, your bishops have been at work coming to the rescue of your family....We are all at risk." I had hoped that statment would have been followed by "Eliminating preditory gay priests and seminarians, and lenient bishops and cardinals from YOUR diocese!" Shoulda known better. Pray, fast and do penance.

Posted by: Abraham Tolemahcs - Oct. 17, 2005 8:06 AM ET USA

I want to see the "Important liturgical and aids resources" posted in the top right corner that are available. That has to be very interesting. Incorporating an AIDS resource into the liturgy oughta provide for some real heterodox entertainment. I'm pretty certain Cdl Mahoney, Bishop Clark et al will not let us down. I can think of a few ideas myself. How about instead of parishoners dropping change into the collection basket, they drop in a few condoms? Simply reprehensible.

Posted by: www.inquisition.ca - Oct. 17, 2005 7:31 AM ET USA

"Don't forget the Cheerios and dental dams, Mommy!" :-D (Hover the mouse over the picture of the USCCB pamphlet above to see yet another example of Uncle D's "Sanctifying Sarcasm"!)

Posted by: Fr. William - Oct. 17, 2005 12:47 AM ET USA

90+ percent of AIDS cases result from gay sex and IV drug use. It is blasphemous & sacriligious to place a gay-pride-type ribbon around the Cross, let alone to "use" the Cross for any type of "cause." Bishops are called to be the chief teachers in their diocese. Thus, every bishop who signed off on the postcard & its mailing should be removed from his office, today, for he has no integrity & cannot be entrusted to teach the Teachings of the Church. Fire every person involved in the project.

Posted by: Fr. William - Oct. 16, 2005 11:18 PM ET USA

The pictured postcard arrived in my parish mail last week. At first, I thought someone vengefully put my name on a "gay"-activist or IV-druggie or MTV mailing list. Then I saw that it was USCCB material! The bishops who OKd this need to be removed. This confirms that the USCCB, as a body of bishops, has NO credibility, NO authority. NONE. It's a dead body. Bury it. Re-form it with the 50 or so millennial bishops who have unquestioned love for & obedience to the Church, Magisterium & Holy Father.

Posted by: John J Plick - Oct. 16, 2005 4:15 PM ET USA

If they made an effort LIKE THAT about CHASTITY FIRST... then I could understand it...

Posted by: - Oct. 16, 2005 1:27 PM ET USA

Indeed! We are all at risk...of losing our souls because this is what passes as evangelization and cathechesis today. How pathetic. One of these days, I pray, we will hear these gutless wonders actually say that sex outside of marriage (heterosexual, homosexual or bestial) is a mortal sin and the most common trasmitter of HIV/AIDS is mortal sin.

Posted by: frjimc - Oct. 16, 2005 1:25 PM ET USA

In the year 2000, there were 461,700 NEW cases of prostate cancer in the US. If the average life-span of men who have prostate cancer is only five years, that means that there are 2,308,500 people living with prostate cancer in the USA alone. When do you suppose we'll see the USCCB drape a ribbon around the cross and declare their sponsorship of National Prostate Cancer Awareness Day? Me neither. The problem with prostate cancer as a "cause" for activism? Not gay-specific.

Posted by: Vincit omnia amor - Oct. 16, 2005 11:57 AM ET USA

The Lord has blessed me to be able to laugh at some of the silliness around us, but this has found my blood boiling! How do we help folks by not telling the full truth. There's warning labels on wine bottles about the dangers of alcohol and fetal birth weight...but nothing here about the immoral acts which put folks at risk for AIDS--illegal drug use, homosexual acts, sex outside of marriage. Great, we can feel good to have a multimillion dollar campaign...but will it bring health and salvation?

Posted by: major - Oct. 16, 2005 11:04 AM ET USA

It is a pity that our Bishops do not give a similar effort to the Sacraments,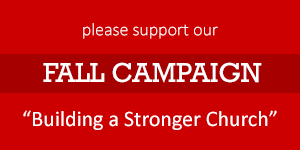 Recent Catholic Commentary
Top Catholic News
Most Important Stories of the Last 30 Days