We have $161,864 to go in our Fall Campaign. Every penny is used to strengthen the Church. See details!
scarlet
By Diogenes (bio - articles ) | May 08, 2005
LADY IN RED -- Hannah Christ, a junior at St. Joan Antida High School in Milwaukee, dances to "Lady in Red" during a multicultural music and dance performance at the school April 29. The dance number portrayed five generations of young women who have attended the Catholic girls' high school and was part of the school's annual "Celebration of Diversity." (Catholic Herald photo by Sam Lucero)
The Catholic Herald is the newspaper of the Archdiocese of Milwaukee. You've come a long way, baby.
An appeal from our founder, Dr. Jeffrey Mirus:

Dear reader: If you found the information on this page helpful in your pursuit of a better Catholic life, please support our work with a donation. Your donation will help us reach seven million Truth-seeking readers worldwide this year. Thank you!

Our Fall Campaign




Progress toward our year-end goal ($161,864 to go):
Sound Off!
CatholicCulture.org supporters weigh in.
All comments are moderated. To lighten our editing burden, only current donors are allowed to Sound Off. If you are a donor, log in to see the comment form; otherwise please support our work, and Sound Off!
Posted by: Vincit omnia amor - May. 09, 2005 8:35 PM ET USA

"unpathedhaunt" - I still maintain that even IF Diogenes choose this because of the "diversity" thing and not the immodesty issue (or both), it's still a valid & reasonable critique. It has become (or been made) a "code word" to advance the homosexual agenda, among other things. All the while, those pushing this p/c agenda try to EXCLUDE Christians & those who hold that certain behaviors are immoral. Do a web search "celebrate diversity"---you'll see a lot of rainbow symbols, etc.

Posted by: frjimc - May. 09, 2005 4:27 PM ET USA

Actually, unpathedhaunt, if you knew anything at all about Latino culture (which, ministering to Hispanics, I do), you would know that the two outfits in question in the photo would be just as distressing to Latino parents as they are to non-Latino parents and adults. Latino parents suffer greatly, feeling that (in our country) their children's morality is being corrupted by our slutty culture. You, sir or madam, patronize Latinos -- and so-called diversity -- assuming they want what we have.

Posted by: frjimc - May. 09, 2005 4:19 PM ET USA

unpathedhaunt -- Icommented on the skimpy dress of two girls who were photographed and published in a Catholic newspaper. The school at which they were photo'd was putatively Catholic. You say that the comment was suspect BECAUSE the occasion was a diversity-play is inane on its face. Perhaps YOU need some sensitivity training; certainly you seem to perceive morality (immodesty is, in fact, immoral) in terms only of situation. The fact that it was diversity day makes the dress no less modest

Posted by: - May. 09, 2005 1:45 PM ET USA

frjimc: You know, of course, that I am not kidding. Be careful and logical. I did not impute to you motive . . . i.e. that you selected ON THE BASIS of diversity. But you are responsible for your choices; this was a bad one precisely because diversity is the occasion of the photo. What this implies about you, I know not. It is a curious choice. By examining the comments from some other readers, one can see that at least your audience could use a bit more sensitivity regarding diversity.

Posted by: frjimc - May. 09, 2005 5:42 AM ET USA

unpathedhaunt -- you're kidding, right? Do you actually believe that Diogenes or I singled this picture out for criticism because some of the girls were - ahem - 'diverse'? If you'll notice, only two of the girls are scantily clad -- the others are appropriately, modestly dressed. How odd that those are the only two that come in for criticism, and that one of them appears to be "white." Speaking of cheap shots . . .

Posted by: Vincit omnia amor - May. 09, 2005 1:51 AM ET USA

"unpathedhaunt:" - Actually, the critique can rightly be of the present day "multiculturalism/celebration of diversity"---without being a "cheap shot." There are some real problems with the p/c push of "multiculturalism." Can't explain/list them all in this space, but one prob. with this agenda is that instead of "E Pluribus Unum" (out of many, one) we're rapidly becoming divided so that our National unity is endangered as many push to make MANY out from the ONE.

Posted by: - May. 08, 2005 8:46 PM ET USA

Looks more like "Lady in Underwear." Perhaps she's practicing poverty by using the least amount of fabric. I would suggest that for once her her life she consciously go against Gospel teaching and actually worry about what she's "going to wear."

Posted by: - May. 08, 2005 4:59 PM ET USA

Wouldn't be any "multicultural" prejudice in the comments expressed as a response to seeing this picture, would there? Can you find for us, Diogenes, a photo of Catholic girls posed with purely provocative clothing (shouldn't be too hard!) so that we can view the scandal outside the context of the "multicultural" event? Or is that part of your critique? If so, another cheap shot.

Posted by: frjimc - May. 08, 2005 8:18 AM ET USA

One might be forgiven for not understanding the Catholic nature of the event, the school or the newspaper by the uniform of the dancer in front. After all, the obscenely low-cut front of the dress and the desperately short skirt are almost a cliche of secular dress. Ahh, but the outfit worn by the "woman" in the rear, at center, posing tantalizingly like a tarantella dancer -- the boustiere, the black stilletto-heeled pumps, the spaghetti straps and the exposed cleavage -- now THAT's Catholic!

Posted by: Vincit omnia amor - May. 08, 2005 1:21 AM ET USA

they have come a long way...they've gotten costumes since November. LITURGICAL DANCE — Bernadette Weider of Rochester, N.Y., left, joins other Call to Action Conference attendees in a liturgical dance workshop at the Midwest Airlines Center in Milwaukee Nov. 5. http://www.chnonline.org/photoweek/photo_11_11.html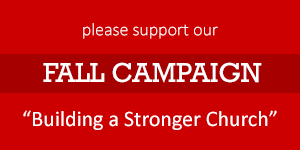 Recent Catholic Commentary
Top Catholic News
Most Important Stories of the Last 30 Days