We have $160,303 to go in our Fall Campaign. Every penny is used to strengthen the Church. See details!
The second collection: Vatileaks and the arrogance of church bureaucrats
By Phil Lawler (bio - articles - email) | Jun 14, 2012
How can we explain the disgraceful behavior of the Church officials behind the "Vatileaks" scandal? Ranking prelates, who (you'd like to think) should have a highly developed moral sense, have been doing things that a schoolboy would instantly recognize as unethical: betraying confidences, undermining colleagues, dissembling. Why?
Apparently these people think that they are justified in their subterfuges—justified in releasing documents that they are sworn to keep secret—because they believe it is essential to change policies and personnel at the Vatican. They are persuaded, it seems, that if things aren't changed, the Church will suffer grave harm. How else would they possibly justify their actions, even to themselves? They must believe that the welfare of the Church depends on their success in shifting Vatican policies.
They're wrong. They're wrong even if they're right about the policies at issue. The welfare of the Church is never served by dishonesty.
And they're wrong about something else. The Church does not necessarily prosper when the Vatican is efficient. The Church prospers when the Vatican is faithful.
Did you notice the point that Pope Benedict made in his public audience on Wednesday? He pointed out that when St. Paul wanted to establish his authority, in his 2nd Letter to the Corinthians, he did not cite his record as a successful missionary; "he pointed to his relationship with the Lord."
It's a natural temptation, no doubt, for Church leaders—and even their staff aides--to believe that the future of Catholicism depends on their efforts. But it's a delusion. Leadership from the hierarchy is essential to the welfare of the Church, but the hierarchy is not the Church. The Church benefits when good people are hard at work inside the Vatican or at diocesan chanceries. But the work of ecclesiastical bureaucrats should not be identified too neatly with the work of the Holy Spirit.
Thinking along these lines, I recalled an episode from my own past, when I was working as editor of an archdiocesan newspaper, and the archbishop convened a synod. For employees at the chancery this was exciting news, and the archdiocesan bureaucracy quickly kicked into high gear. Meetings were held, position papers drafted, memos exchanged, briefings planned, task forces formed, mission statements polished. But outside the chancery, outside the ranks of the clergy, few people noticed and fewer cared.
As an editor, trying to make the archdiocesan newspaper appealing to ordinary lay Catholics, I found it difficult to whip up any enthusiasm for the synod. My readers showed no interest in the meetings and memos and mission statements. When I mentioned this problem to my superiors, I was roundly scolded. You must be enthusiastic, I was told; you must convey that enthusiasm to your readers. So I tried.
Eventually the synod wrapped up its work, and from the many proposals that were adopted I did my best to cull out the ones most likely to affect the lives of ordinary Catholic parishioners. I chose two. The synod had acknowledged that most Catholics were unhappy with the quality of preaching in Sunday homilies. And the synod had decreed that henceforth, except under rare circumstances, there would be no more second collections during Sunday Mass.
Unfortunately, in calling for better homilies, the synod was expressing a wish rather than setting a policy. There were no concrete steps taken toward the improvement of preaching, and in fact the quality of homilies did not improve. The synod had spoken, and no one listened.
The resolution regarding second collections was a more interesting case. A few weeks after the synod issued that policy, I learned that the last previous archdiocesan synod, held a generation earlier, had addressed the same question—and issued the same policy! In other words, by calling for an end to second collections, the synod was superseding the authoritative ruling of a previous synod, which had called for an end to second collections. Which means, of course, that the policy set by the previous synod was being routinely ignored throughout the archdiocese.
Can you guess what happened to the new policy? Exactly. It too was ignored. For a few months, pastors apologized when the scheduled second collections, saying that these "unusual" collections were warranted by special circumstances. Eventually the pastors stopped apologizing, the second collections ceased to be "unusual," and the problem—which two consecutive archdiocesan synods had identified and moved to correct—was once again in full bloom.
At the time, to the people engaged in the work of the synod, it all seemed terribly important. Yet despite their best efforts, life in the Church went on, undisturbed, very much as it had before.
So here's a reminder to people who are employed by the Church, whether they work in parishes or dioceses or at the Vatican. You work for the Church; you aren't the Church.
An appeal from our founder, Dr. Jeffrey Mirus:

Dear reader: If you found the information on this page helpful in your pursuit of a better Catholic life, please support our work with a donation. Your donation will help us reach seven million Truth-seeking readers worldwide this year. Thank you!

Our Fall Campaign




Progress toward our year-end goal ($160,303 to go):
Sound Off!
CatholicCulture.org supporters weigh in.
All comments are moderated. To lighten our editing burden, only current donors are allowed to Sound Off. If you are a donor, log in to see the comment form; otherwise please support our work, and Sound Off!
Posted by: koinonia - Jun. 18, 2012 10:10 PM ET USA

Tremendously important considerations and a conclusion even more important. The disorientation is symbolic of the disorientation elsewhere in the Church. Authority, rubrics, regulations, disciplines, traditions etc. are all directed. When there is disorientation or misdirection, there is an open road to Disgrace. "The Church prospers when the Vatican is faithful." You betcha! We passed the "Welcome to Disgrace" sign some time ago, but it seems we're having trouble leaving the city limits.

Posted by: hartwood01 - Jun. 16, 2012 3:09 PM ET USA

Our parishioners complained about the relentless collections and they were cut down to about one per month. We are a wealthy parish and when people complain, they are heard.

Posted by: rxpert - Jun. 16, 2012 1:44 PM ET USA

This article needs to be made required reading for every member of the hierarchy AND THEIR STAFFS. And, please allow me to also pose a question- Now that massive video screens have become somewhat affordable, what's the downside to delivering homilies through closed-circuit television? Certainly our bishops could find two or three good homilists in each of their dioceses to deliver a good homily to all parishes every week. It's used in a few "independent" churches to good advantage.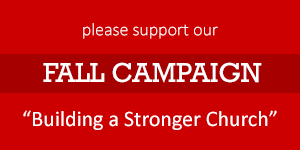 Recent Catholic Commentary
Top Catholic News
Most Important Stories of the Last 30 Days